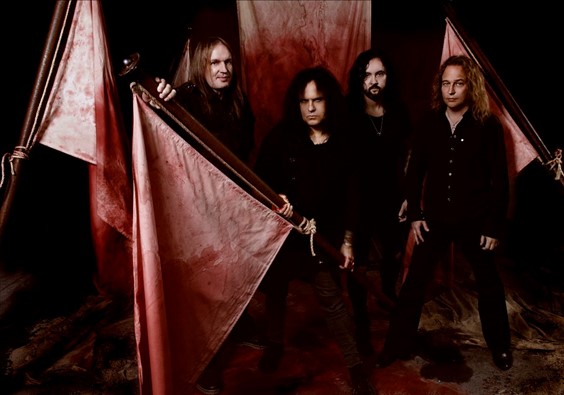 The mighty KREATOR have just released their fifteenth studio album, Hate Über Alles via Nuclear Blast  Records.
For 37 years, KREATOR has spear-headed a thrash metal crusade, inspiring generations of metal heads and musicians alike. The collision of traditional and contemporary values is a sentiment that Mille Petrozza has breathed in to the soul of this monumental new album; recruiting visionary producer Arthur Rizk (Power Trip, Cavalera Conspiracy, Ghostmane and Turnstile) from Philadelphia to work with the band at the legendary Hansa Studio in Berlin. Hate Über Alles features gorgeously grim cover artwork painted by renowned artist Eliran Kantor (Testament, Thy Art Is Murder, Helloween), serving a bold statement against hate and division in today's society.
The Everblack Podcast caught up with Kreator frontman Mille Petrozza to talk about their new record 'Hate Über Alles', the artwork creation by Eliran Kantor, the incredible special edition box set that includes the Bloodstock 2021 live album, 2023 Australian tour and more!
Watch/listen to the interview HERE :
Decades into their game-changing career, German metal legends Kreator find themselves more successful and influential than ever. They've stuck to their guns, weathered the trends and outlasted their peers – never once wavering from the ferocious noise that excited them as teens. If anything, that thirst for sonic warfare is just as strong, if not stronger, today. Where others have suffered from creative malnourishment and artistic uncertainty, something which even metal's biggest and best are prone to, Kreator have always charged full steam ahead – thanks to the red-eyed conviction and fearless determination of founding singer and guitarist Miland 'Mille' Petrozza.
On 1985 debut Endless Pain, the Essen innovators created the template for extreme noise to come, fusing elements of thrash and black metal in ways that had never been heard before. Their sophomore album of the following year, Pleasure To Kill, became one of the landmark albums of 1986 – making metal history alongside key releases from Metallica, Slayer and Megadeth. And onwards they marched, bringing hellish anthems to the masses in every album that followed, with a track record few could ever rival.
The last decade has been a particularly exciting time for the group, with 2012's Phantom Antichrist proving how they could embrace modern production techniques and move with the times without forsaking the underground spirit and defiance which made them a household name in the first place. Its successor, 2017's Gods Of Violence, saw them topping the German charts for the very first time in their career, a feat virtually unheard for a band of such thunderous intensity.
Returning this year with fifteenth opus Hate Über Alles – which marks their first studio album with Frédéric Leclercq (ex-Dragonforce, Sinsaenum) on bass, joining Mille, guitarist Sami Yli-Sirniö and drummer Jürgen 'Ventor' Reil – the metal titans are once again channelling an unholy heaviness strong enough to tilt the earth off-axis.
Conquering and destroying in the way only Kreator can, Hate Über Alles will undoubtedly sit proudly as the finest metal of its year. And so onwards they march once more…
Kreator – 'Hate Über Alles' is out now via Nuclear Blast Records.
Physical sales link: https://bit.ly/3myPYXj
Digital sales link: https://kreator.bfan.link/hate-uber-alles