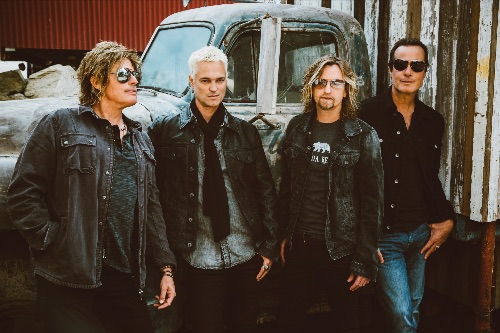 It's been a long time coming but the incredible rock music concert series Under The Southern Stars, is just WEEKS away!
Featuring rock royalty Cheap Trick, global rock superstars, Bush, the legendary Stone Temple Pilots, and the epitome of rock n roll, Black Rebel Motorcycle Club! 
As well as Australian rock royalty Rose Tattoo and rock icons Electric Mary!
The tour itself is a significant one, not only does it boast one of the best festival line ups Australia has seen on one bill in a very long time, but also the first big name international acts to hit our shores since the borders were locked down in 2020!
The Everblack Podcast sat down with legendary Stone Temple Pilots drummer Eric Kretz to talk about the massive Under The Southern Stars Tour and his excitement to be hitting the road again with their mates Cheap Trick and Bush, celebrating the 30th anniversary of their debut album 'Core', the darker heavier tone of the bands earlier material, His love of Rush and prog, future of the band and more!
Watch/listen to the interview HERE:
One of the biggest rock acts of the 1990's with over 50 million albums sold, Stone Temple Pilots broke out of the scene they helped to define into bonafide superstars. From their breakout debut album, Core, with legendary hits, Sex Type Thing, Creep, and Plush to Purple's soaring Interstate Love Song and Big Empty and the late 90's smash singles Big Bang Baby and Sour Girl, STP songs are the soundtrack of a generation.
Stone Temple Pilots are reborn and writing the next chapter of their storied career, with their seventh studio album, Stone Temple Pilots (2018), their first with new lead singer, Jeff Gutt.

UNDER THE SOUTHERN STARS 2022
Fri, March 11: Maitland Showground, Maitland, NSW
Sat, March 12: Foreshore Reserve, Hastings, VIC
Sun, March 13: JC Lowe Oval, Yarrawonga, VIC
Wed, March 16: Margaret Court Arena, Melbourne, VIC
Fri, March 18: Bonython Park, Adelaide, SA
Sat, March 19: Bonython Park, Adelaide, SA
Sun, March 20: Bonython Park, Adelaide, SA
Tues, March 22: WIN Entertainment Centre, Wollongong, NSW
Wed, March 23: Quodos Bank Arena, Sydney, NSW
Fri, March 25: Kings Beach Ampitheatre, Caloundra, QLD
 Sat, March 26: Southport Sharks, Gold Coast, QLD
Sun, March 27: Riverstage, Brisbane, QLD
Tickets are on sale now and selling fast. Get in quick and be part of history
www.underthesouthernstars.com.au
***All previously purchased tickets are valid for 2022 see website for details.***