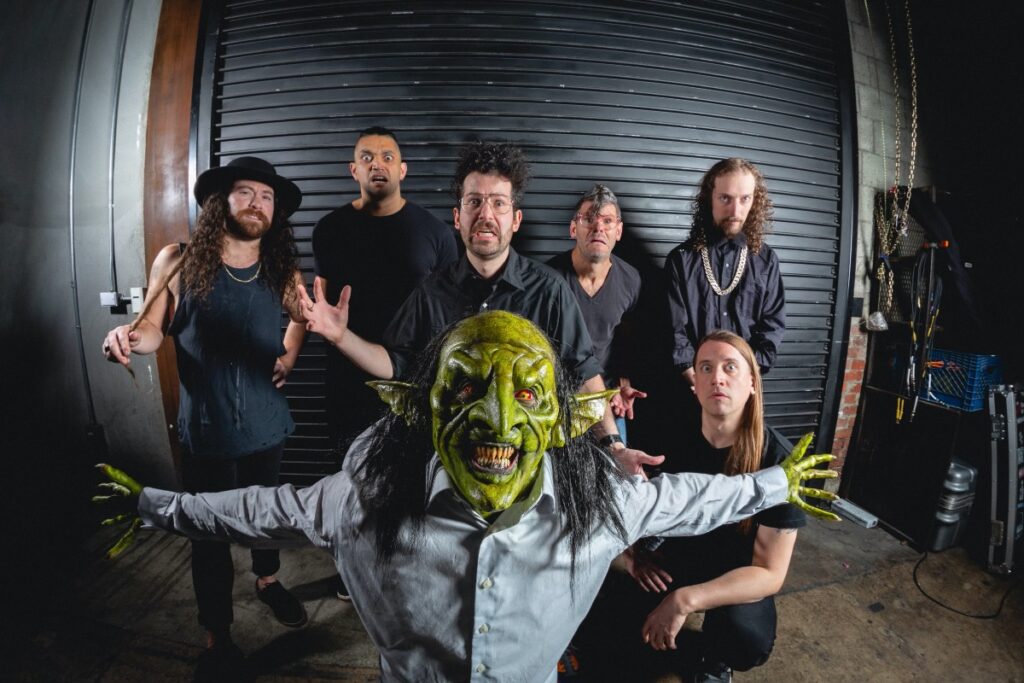 Los Angeles' Nekrogoblikon, the self-proclaimed "Best Goblin Metal on the Planet," are about to release their much anticipated new album 'The fundamental Slimes and Humours on April 1st via their own Mystery Box label.
Known for their melodic death metal earworms filled with crafty hooks, claw-pumping choruses, lightning-fast riffs, and over the top, EDM-style keyboard flourishes and of course their own hype Goblin, John Goblikon, Nekrogoblikon have taken the world stages by storm and played festivals such as Download, Bloodstock Open Air, 7000 Tons of Metal, Van's Warped Tour, Summer Slaughter, & Heavy Montréal as well as having toured with bands such as Limp Bizkit, Crossfaith, Butcher Babies, Lorna Shore and more!
The Everblack Podcast sat down with Nekrogoblikon frontman Nicky "Scorpion" Calonne to talk about the themes behind 'The Fundamental Slimes and Humours', Goblin anatomy and home planet, drop bears, touring and more!
Watch/ Listen to the interview HERE:
Founded in 2006, Nekrogoblikon self-produced their debut album, the relatively lo-fi Goblin Island, in a basement. The LP was released in 2007, and an expanded lineup was quickly assembled to help flesh out the fledgling group's audacious live shows.
The more technically proficient Stench arrived in 2011, and included the single "No One Survives" — the video written and directed by Brandon Dermer (Panic At The Disco, Every Time I Die, Diplo, Dillon Francis) became a viral hit, and landed the band festival slots at Download Festival in the UK and Rock Im Park/Rock Am Ring in Germany.
The Power EP was issued the following year, and in 2014 the band joined Limp Bizkit on the Kerrang! Tour. In 2015 they released the concept LP Heavy Meta via their own Mystery Box label, and in 2018, Nekrogoblikon issued their fourth studio long-player, Welcome to Bonkers, which was followed by extensive touring including performing on the entirety of the final cross-country Vans Warped Tour and Summer Slaughter.
In between touring stints, the band (along with Brandon Dermer and writer/actor Dave Rispoli) released 3 seasons of RIGHT NOW, a comedic talk show starring band mascot John Goblikon. The series features a wide array of high profile guests including comedian Bobby Lee, The Used, Keith Buckley from Every Time I Die, Wes Borland from Limp Bizkit, and Joe Trohman from Fallout Boy.
Nekrogoblikon – 'The Fundamental Slimes and Humours' is out April 1st via Mystery Box.
Order here : https://m.districtlines.com/nekrogoblikon