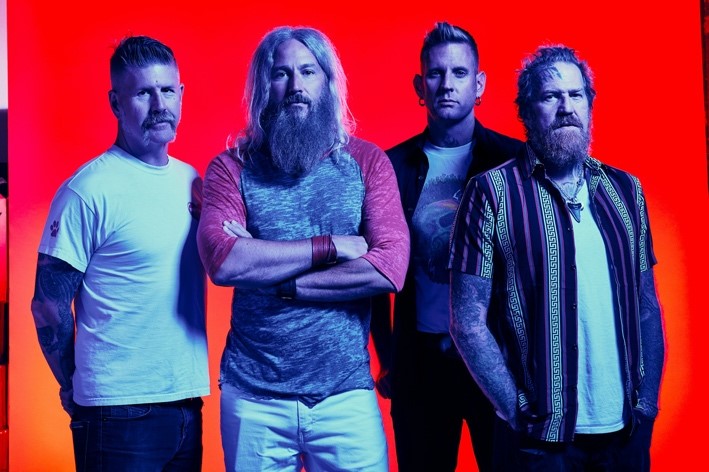 GRAMMY® award-winning heavy rock legends Mastodon have just released their ninth full-length double studio album HUSHED AND GRIM via Reprise Records.
Recorded in their hometown of Atlanta over the past year and produced by David Bottrill (Tool, Rush, Muse, Peter Gabriel) HUSHED AND GRIM is their most ambitious body of work to date and consisting of 15 disparate tracks, surveying a confluence of textures that include rock, psychedelia, punk, metal, alternative, and prog interwoven by their innately expressive musical interplay of these virtuosic musicians. An atmospheric canvas very real of loss, loneliness, and longing permeates through the trio of cathartic vocals as they musically say goodbye to old friend, confidant, and longtime manager the late Nick John by architecting a magnum opus that bears the influence of his eternal memory.
The Everblack Podcast spoke to Mastodon drummer Brann Dailor about the creation of the new record HUSHED AND GRIM and it's emotional weight and tribute, His new book 101 Clowns of the Coronavirus, their live stream show from Georgia Aquarium, touring Australia and more!
Stream the interview here : 
For as much as HUSHED AND GRIM is steeped in one of the darkest periods of the band's career as each member experiencing personal grief, its light shines through in a fully realized manifestation everything Mastodon is right now. Once again, Mastodon have drafted in revered artist Paul Romano (Remission, Leviathan, Call of the Mastodon, Blood Mountain, Crack The Skye) whose evocative images adorns the cover of HUSHED AND GRIM.  The album artwork will also be featured on a new line of official Mastodon merch including various fan bundles and product combinations that are available in the bands store today.
Mastodon – 'HUSHED AND GRIM' is OUT NOW Order here :
https://wma.lnk.to/Hushed-and-GrimPR