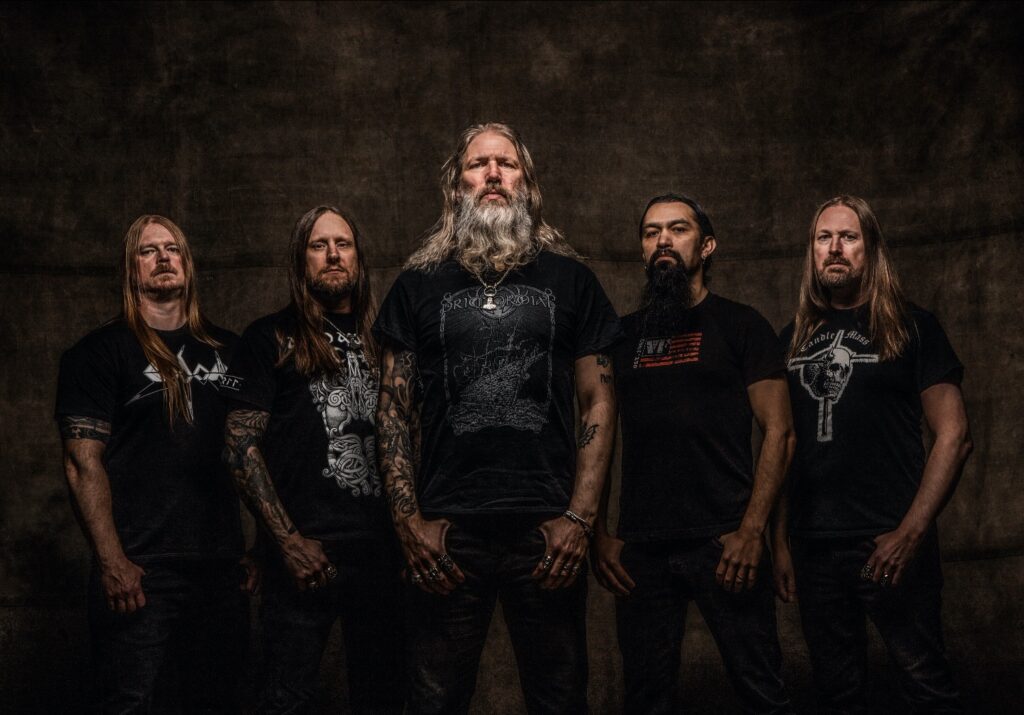 Undisputed kings of Viking heavy metal, Amon Amarth, will release their 12th studio album, The Great Heathen Army on Friday, August 5th, 2022 via Metal Blade Records.
One of the best-loved metal bands in the world, AMON AMARTH are firmly dedicated to aiming high when they hit the studio. Recorded with esteemed studio guru Andy Sneap at the controls, 'The Great Heathen Army' represents another bold leap forward for the band, as their trademark sound undergoes yet another skilful, evolutionary overhaul, both lyrically and musically. From the noisily rabble-rousing "Find A Way Or Make One" and the pummelling, pugilistic "Get In The Ring", to the evocative fury of "Saxons & Vikings " and the cinematic squall of the title track, ' The Great Heathen Army ' encapsulates the essence of this legendary band, while still allowing acres of space for new ideas.
The Everblack Podcast spoke to Amon Amarth bass player Ted Lundström about the much anticipated new album 'The Great Heathen Army', working with the legendary Andy Sneap again, the epic videos for the title track and Get in the Ring featuring wrestler Erick Redbeard, upcoming tours with Machine Head, Carcass, Obituary and Cattle Decapitation, possible return down under and more!
Watch/Listen to the interview here:
From their underground smash debut 'Once Sent From The Golden Hall' (1998) onwards, Amon Amarth have been an unstoppable creative force. With a unique and unmistakable sound that combines the best of several epic strains of metal, the quintet have become renowned for their ageless anthems and explosive, theatrical live shows. Albums like 2008's widely acclaimed 'Twilight Of The Thunder God' and 2016's conceptual triumph 'Jomsviking', the Swedes have been consistent standard bearers for heavy metal as a life-affirming and communal experience, armed with a seemingly endless stream of instant classic songs.
Now reaping the rewards of all those years of hard work, AMON AMARTH are now regarded as one of the metal world's most vital and imperious live acts. From headlining festivals across Europe to claiming a place on Slayer's final tour of the US in 2019, they have honoured the adventurous ethos of their Viking forebears by taking their music anywhere and everywhere.
Unfortunately, as the world ground to a halt early in 2020, AMON AMARTH were in the midst of a wildly successful world tour in support of their most recent album, Berserker. Disappointed but unbowed, the band decided instead to forge a new creative path, resulting in their most crushing and heroic full-length album to date, "The Great Heathen Army"

Amon Amarth – 'The Great Heathen Army' is out on Friday, August 5th, 2022 via Metal Blade Records.
Pre order here :
www.nervegas.com.au/amonamarth