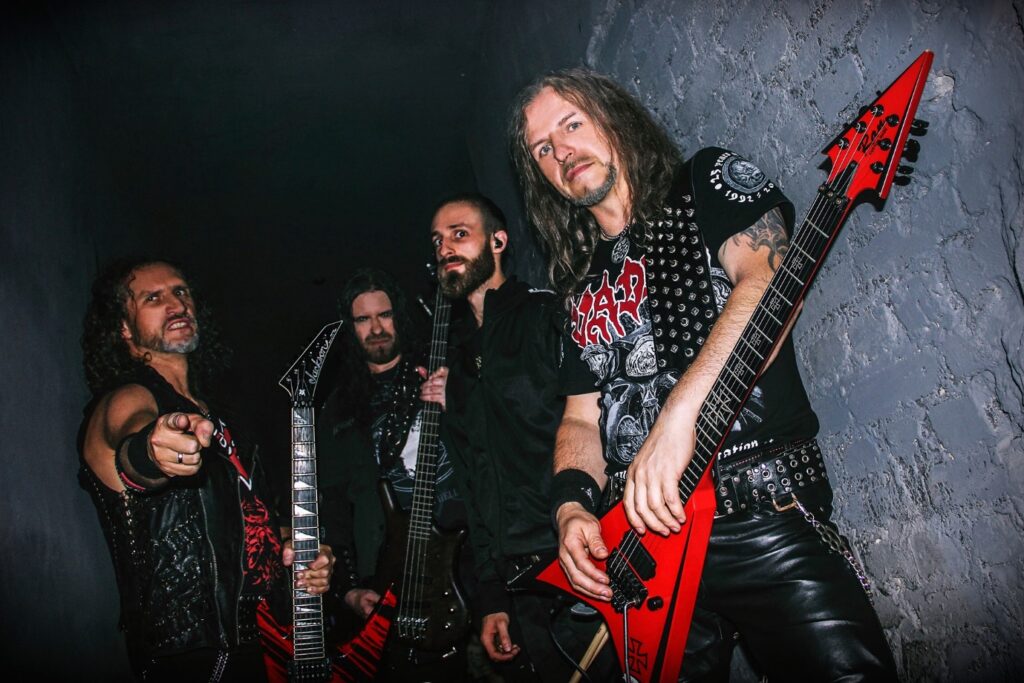 ardline Media could not be more thrilled to relaunch both international Metal music in Australia and Hardline Touring with Polish legends Nuclear Blast's VADER and THY DISEASE! Playing a selection of songs from throughout their massive career, VADER will hit Brisbane, Sydney and Melbourne stages with THY DISEASE in October 2022. After a very quiet couple of years, this is the way to get heavy back Down Under…
Polish Death Metal legends VADER have already released their 16th studio album, Solitude In Madness (via Nuclear Blast), in 2020, with Covid-starved fans keen to see it in action, live. Never one to rest or relax, VADER have done it all during the course of their 37-year history. From playing super-aggressive, Thrash under the watchful eye of Communist Poland… signing a worldwide deal with popular UK indie label Earache Records… to touring the globe (after the dissolution of the Warsaw Pact in 1991, of course) and enjoying a near-maniacal fanbase, there's no stopping the Piotr "Peter" Wiwczarek – led outfit. Proof of that lies in the exceptionally great Solitude In Madness, where speed and power are back as the driving factors in VADER's fiendish yet proficient Death Metal style. Further evidence can be found in the differences that separate previous pounder The Empire from Solitude in Madness.
With the band dynamic stable – Marek "Spider" Pająk (guitars), Tomasz "Hal" Halicki (bass), and James Stewart (drums) whom have been in VADER for almost a decade – the song-writing sessions were similar to Tibi et Igni (2014), The Empire (2016), and the tour-only Dark Age (2017). They were easy and smooth. Although things weren't always like this in the VADER camp, the current line-up has afforded Wiwczarek a platform on which to focus VADER's most important trait: the music.
THY DISEASE is a Polish industrial metal band from Kraków. Their lyrics generally deal with nihilism, apocalypse, and war. The band was formed in 1999, by musicians formerly active in bands like Sceptic, Anal Stench and Crionics.
Their fourth album, Rat Age (Sworn Kinds Final Verses), was released in early 2006 under Empire Records. The band's label for the previous three albums was Metal Mind Productions.
The readers of Polish edition of Metal Hammer magazine voted THY DISEASE the best Polish debut act.
LIMITED PRE-SALE EARLYBIRD TICKETS – ON SALE THIS THUR 21 APRIL @ 10:00AM AEST ONLY AT WWW.HARDLINEMEDIA.NET
(* The Earlybird catches the worm – these tickets are cheaper, no booking fee charged! limited)
VADER and THY DISEASE 2022 TOUR DATES
WED 12 OCT – BRISBANE – THE TRIFFID
THUR 13 OCT – SYDNEY – MANNING
FRI 14 OCT – MELBOURNE MAX WATTS
SPECIAL VIP SOUNDCHECK MEET & GREETS AVAILABLE, EXTREMELY LIMITED!
*Once presales are sold out, full price General Public ticket go on sale on Tuesday 26th April)