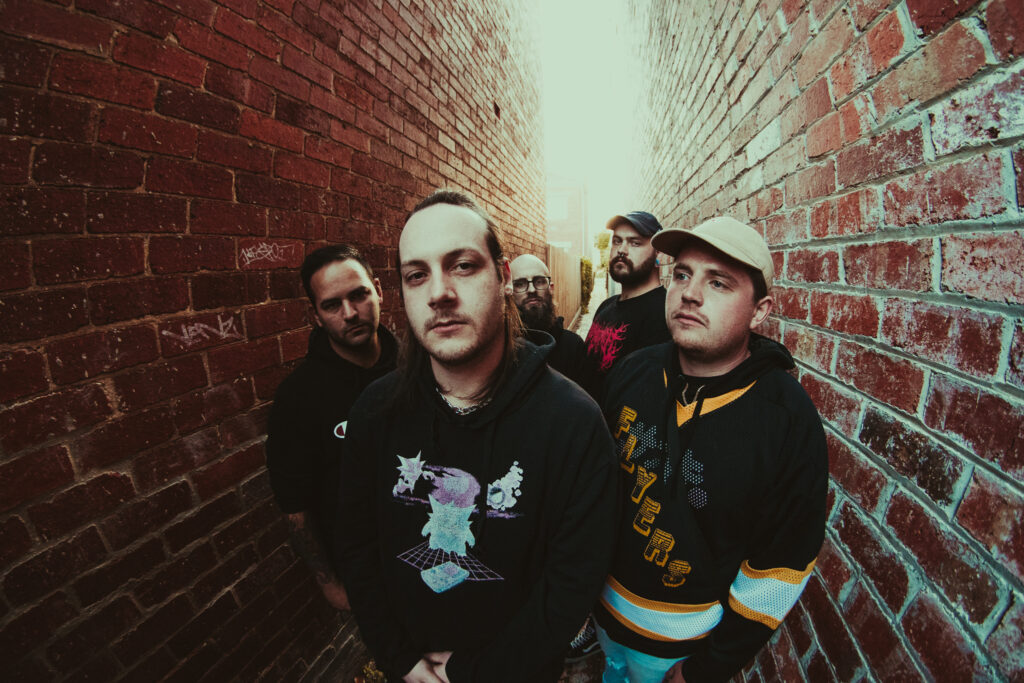 PHOTO CREDIT: ANDREW BROMLEY
Victorian heavy hitters ATLVS have recently released their latest single "Comethazine".
With an arsenal full of new and upgraded material in collaboration with recording, mix and mastering engineer Scottie Simpson (Alpha Wolf), ATLVS are set for a big year ahead. Leading with "Comethazine", the band experiment with a new sound welcoming haunting clean vocals that mirror that of a tormented headspace. "Comethazine" is a heavy-hitting yet somber track, lyrically drawing similarities between being stuck in a toxic relationship and being controlled by a drug addiction.
Since it's release the song has racked up over 30,000 YouTube streams and more than 15,000 Spotify streams and counting seeing the band break new ground and one to keep an eye on for the near future.
The Everblack Podcast had the chance to talk to Nick and Nathan from ATLVS to talk about their new single 'Comethazine' and the success of the track, working with Scottie Simpson from Alpha Wolf, touring, their cover of The Presets 'My People' and more!
Watch/listen to the interview here:
"Comethazine" follows on from last years abrasive and crushing offerings "Nazareth" and "Kodokushi". "Nazareth" was released in October and was predicted by Maniacs to be "the start of a punishing new era for ATLVS". Living up to expectations, "Kodokushi" released shortly after via triple j The Racket and demonstrated a frantic soundscape that attracted plenty of love from the YouTube react community including a tick of approval from Garrett Russell of Silent Planet on Nik Nocturnal's video review stream.
Between singles, ATLVS teamed up with the What We Did On The Weekend podcast on their collaborative album, 'The Better Sessions', to release their cover of The Presets classic, "My People". 'The Better Sessions' featured a collection of local Australian heavy acts covering popular songs to raise money for Beyond Blue, a charity close to the podcasters heart. Vinyl sold via Anti Vinyl Vinyl Club.
ATLVS is Nathan Coff (vocalist), Matthew Borthwick (bass/vocals), Nick Clavarino (drummer), Nick Fitzgerald (guitarist) and Steve Ljiljak (guitarist). Since the bands inception, ATLVS have built a loyal following, touring Australia for the first time at the end of 2019, showcasing their brutal sound and winning over the hearts of metal fans across the country. The end of tour brought with it the quintets first headline show, which completely sold out.  
ATLVS released their debut EP, 'Memoir' in 2019 which saw collaboration with Ocean Sleeper's Ionei Heckenberg on "Insinuate" and Lotus Eater's Jamie McLees on "Mercury", skyrocketing Spotify streams to over 200,000 collectively.
ATLVS have previously jumped up to support shows with the likes of Windwaker, Gravemind, Pridelands, Ocean Sleeper, Dream On Dreamer and more and have been labelled as "Completely Ruthless" on their triple j Unearthed page. Hysteria Mag previously weighed in to affirm ATLVS are on a steady route to "take the Australian music scene by storm" while Wall Of Sound coined them "a healthy dose of heavy".
"Comethazine" is available now and streaming everywhere.