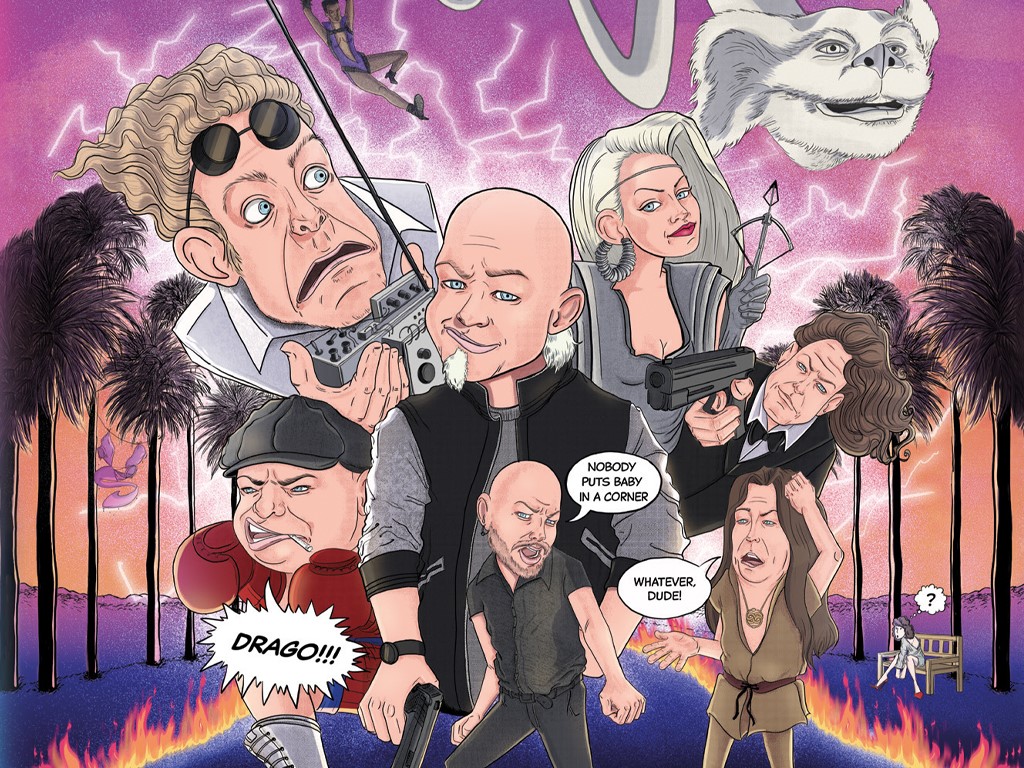 Known for their brilliant adaptions of movie hits on YouTube during the pandemic, Scandinavian all-star supergroup AT THE MOVIES have recently released their new album 'The Soundtrack Of Your Life – Vol. 2' and re-released their debut album 'The Soundtrack Of Your Life – Vol. 1' after signing to Atomic Fire Records.
The stellar supergroup led by Chris Laney (PRETTY MAIDS) also features a cast of some of metal and rocks best of the best with Björn "Speed" Strid (SOILWORK, THE NIGHT FLIGHT ORCHESTRA), Linnéa Vikström (RONNIE ATKINS, THERION) Morten Sandager (ex-PRETTY MAIDS), Pontus Egberg (KING DIAMOND, WOLF) and Pontus Norgren (HAMMERFALL) coming together to cover some of the worlds catchiest ear worms from the 80's and 90s most popular films.
The Everblack Podcast sat down with AT THE MOVIES mastermind Chris Laney (PRETTY MAIDS) to talk about The Soundtrack Of Your Life – Volumes 1 + 2, working with incredible musicians like Björn "Speed" Strid and Linnéa Vikström, the significance of his favourite film E.T, the lost art of good tie in movie soundtracks, current status of Pretty Maids and more!
Watch/listen to the interview here: 
With Volume 1 focusing on the 80's, AT THE MOVIES offer their wildly entertaining and uplifting take on classics like 'St. Elmo's Fire' (from St. Elmo's Fire), 'We Don't Need Another Hero' (from Mad Max: Beyond Thunderdome), 'The Power Of Love' (from Back To The Future) or 'The Neverending Story' (from The Neverending Story). "Picking songs was fairly easy," the mastermind explains. "I knew that I wanted to focus on the non-rock songs. Of course, there are great ones like 'Danger Zone' or 'Eye Of The Tiger' but they already are rock songs. We wanted to see what happens when you take disco songs or these huge and dramatic pop ballads and turn them into rockers. In the end," he laughs, "this meant replacing lots of saxophone with electric guitars."

Volume 2« directly plunges into the 90's. 'Waiting For A Star To Fall' (from Three Men And A Little Lady), 'When You Say Nothing At All' (from Notting Hill), the riff-heavy rocker that once was Jennifer Paige's teen pop soundtrack anthem 'Crush', or the furious glam rock extravaganza 'Venus' make it pretty clear that their only agenda was fun. After all, why would a troupe of well-established heavy metallers take on a song like 'I Want It That Way' by the BACKSTREET BOYS? "We were going for songs you wouldn't normally take on as a rock band," Laney tells us. "What we were asking ourselves all the time was: can we get away with this? And of course we can because we have nothing to lose. We can do whatever we like." He marvels: "We never actually thought anybody would care about that but then all of a sudden, the uploaded songs became quite popular. And there we were, doing song after song. Every Thursday at 7:00 pm."
With the parallel re-issue of  Volume 1 (including a bonus track) and the brand-new Volume 2, AT THE MOVIES prove to be movie lovers with a heart of rock and a penchant for fun. Recorded remote, brought together in Chris Laney's home studio, both instalments of  The Soundtrack Of Your Life deliver some of the finest blockbuster entertainment on a Hollywood scale, paving the way for future cinematic endeavours. "We'll figure something out soon," Laney is sure. "I would love to do a Disney special but I'm not sure Disney will like it. Maybe we're going back to the 60's. You never know."What we do know, however, is the guarantee of success once this all-star vessel is hitting the festival stages. Chris Laney concludes: "What could be better to open up a day at a big festival with songs like these?" What indeed.
AT THE MOVIES – The Soundtrack Of Your Life – Volumes 1 + 2 are both available now.
Order here :
Vol. 1 Re-Release): https://music.atomicfire-records.com/soundtrack1