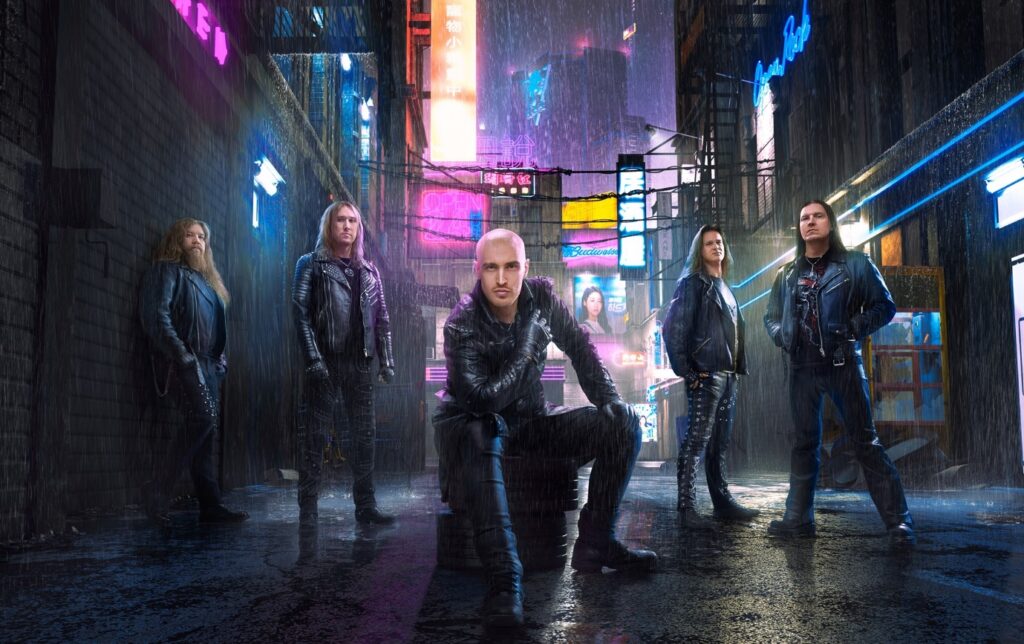 International powerhouse BEAST IN BLACK have recently released their long awaited third album Dark Connection.
Produced, recorded and mixed by Anton Kabanen himself as well as mastered by Emil Pohjalainen (Amethyst Sound Productions), 'Dark Connection' may feature the most prominent synths of all of BEAST IN BLACK's recordings so far, especially in the form of the Italo disco, Euro beat and symphonic elements that the band are so widely loved for. Despite that, at its core it's still all about simple heavy metal.
The Everblack Podcast caught up with Beast In Black mastermind Anton Kabanen to talk about the new album 'Dark Connection, it's cyber punk concept, the incredible videos for the singles, the movies he draws influences from and more!
Watch/listen to the interview here: 
The kind of ageless melodies that Kabanen has always been able to create. These tunes once again melt with heroic stories that are rooted in sci-fi, fantasy and cyberpunk, that are represented in the artwork of the band's long-time companion Roman Ismailov. On Dark Connection :"There's a few ongoing themes on the album at least, one of them might even be familiar to fans of my earlier work," he reveals. "Tracks such as 'Highway to Mars' and 'Moonlight Rendezvous' lead into the cyberpunk worlds of the Armitage III anime series and are even partly Blade Runner inspired."
But could there really be a BEAST IN BLACK album without Berserk? Of course not, and there will never be. Berserk is one of, if not the, guitarist's favourite manga series which the band once again pays tribute to on the new album in the form of 'Dark New World', 'To The Last Drop Of Blood' and 'Broken Survivors'.
Whether it's rapid bangers such as 'Blade Runner' and 'Revengeance Machine' or more sensitive songs such as the aforementioned 'Broken Survivors' and album closer 'My Dystopia' – alongside the seasoned musicians, the outfit's lead singer Yannis Papadopoulos has offered up his 'last drop of blood' in the end too: "He's one of those rare singers that can do anything!" praises Anton of the Greek vocal phenomenon. "He's a very dedicated singer, and he doesn't just do one or two takes – he does as many as it takes for a perfect result." And you can clearly hear that on the group's third studio album: "There are so many impressive Yannis moments all over Dark Connection. I'm quite sure people will find themselves thinking: 'Is this Yannis too?!' – and most of the times it's really him. Sure, my raspy screams, some epic duets and a lot of back-up vocals can be heard too, but Yannis' performance is definitely the most diverse he has ever delivered," he concludes.
A mighty arsenal of hits, that's been extended by the 11-track wonder that is Dark Connection, another extensive European headline run (fingers crossed!) in sight and a consistently growing fan base worldwide, all thanks to a band that are as motivated as ever. Do you think there is any end boss that could prevent the BEAST from easily jumping from level to level or even skipping some of the obstacles in the heavy music 'game'…? You may have guessed it right: there's none!


Beast In Black – 'Dark Connection' is out now via Nuclear Blast Records
Listen here:  https://bfan.link/dark-connection
Order local physical HERE