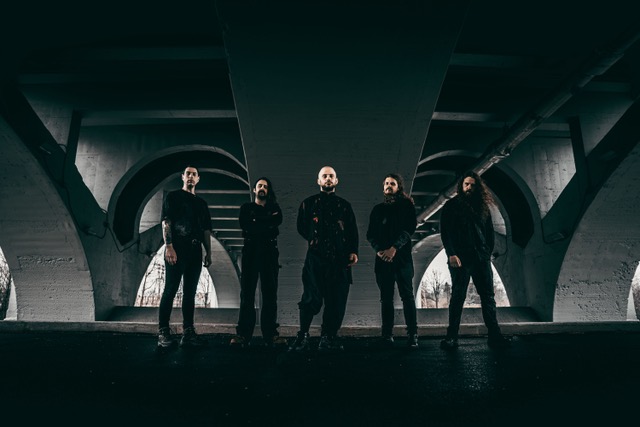 Progressive metal masters Rivers of Nihil have recently released their fourth full-length, The Work, via Metal Blade Records.
Reading, Pennsylvania's Rivers Of Nihil have never fit neatly into a box, but with 2018's Where Owls Know My Name, they transcended all labels applied to them. Returning in 2021 with The Work, they have forged further into new territory, delivering an album that is as cerebral as it is visceral, and that covers a staggering sonic range, definitively placing them in a category of their own. Inarguably a very dense, heavy collection, The Work is far too dynamic to be considered a solely metal record, and there is a genuine warmth that shows through, particularly on "Wait" and the gorgeous "Maybe One Day," and the band have included far more clean vocals alongside the screaming that tears through many of the heavier tracks.
The Everblack Podcast sat down with Rivers Of Nihil bass player Adam Biggs to discuss the complex concepts and musical journey of their new album 'The Work', His thoughts on their growing global success, friendship with tech masters Archspire, touring Australia and more!
Watch/listen to the interview here:
While there is a central concept driving the album, Biggs elects to keep the specific details to himself so that listeners can relate to it in their own way, but he explains where the title comes from. "What does life all really boil down to in the end? You can be lovey-dovey about the good times, and savor the sweetness that life sometimes provides, but beneath everything is work, struggle, someone is always getting a raw deal, someone's always sweating it out in the mines somewhere so you can enjoy your diamonds. This has always proved true in everything I've ever done in life. Most people reading this know me as a member of a successful band, but beneath it is constant work. Physical, emotional, spiritual work. All the time. Every day. And I know that it's like this across the board for just about anyone in at least some capacity, so I figured this subject would be relatable to a lot of people." 
"Focus," one of the album's standout tracks, is a meditation on the writer's – and possibly the listener's – relationship with drugs, starting with having been medicated for ADD as a kid. "That was not uncommon for the time. Maybe it was for the best, maybe not. But it did kick off a relationship with drugs that has been pretty interesting. I've gone through long periods of sobriety, and I've been on the complete other end of that. What I find is that drugs are largely disappointing. The expectation is that they can relieve your mind, or change your thinking. But for me, it always just feels like a slight shift in focus." Then there is "The Void From Which No Sound Escapes" and "MORE?", which are thematically linked. "It's about expectation and delivery. 'Void' is the expectation, they want what you have, and you have to give up a bit of yourself to give it to them. The 'what' and 'they' in that sentence aren't super important. But I think everyone has a 'what' and they know a 'they' that wants that from them, and we all feel some obligation to deliver."
With guitars and synths/keys tracked at Uttley's home studio, the band then we went back for the third album in a row to Carson Slovak and Grant McFarland at Atrium Audio to do drums, vocals, bass, sax, and mixing. "We've done so many sessions with those guys that they're basically an extension of our band at this point. They usually know what we like, and we always encourage them to roast us to make stuff better," says Uttley. Alongside the band, James Dorton from Black Crown Initiate provided some vocals on "Episode," Grant McFarland played cello on "The Void From Which No Sound Escapes", and Uttley's friend Stephan Lopez helped out with all of the field recordings, an integral part of the sonic textures of the record.
There's no denying that the finished product is something unique and marks the beginning of an exciting new chapter for Rivers Of Nihil, though Biggs states he has never gotten anywhere by thinking about the future of the band. "We always just sort of do this thing and it grows. I guess that could change at some point. But thinking about things that way doesn't seem to get me anywhere either. Better to focus on the work in front of us, as it turns out," he adds, referencing the album's title. "If we've learned anything for certain in the last year or so, it's that the future can be murky, we're not really owed anything, and it can all be taken away any second. But for now, we press on."

Rivers of Nihil – 'The Work' is out now via Metal Blade Records.
Orders Available now via