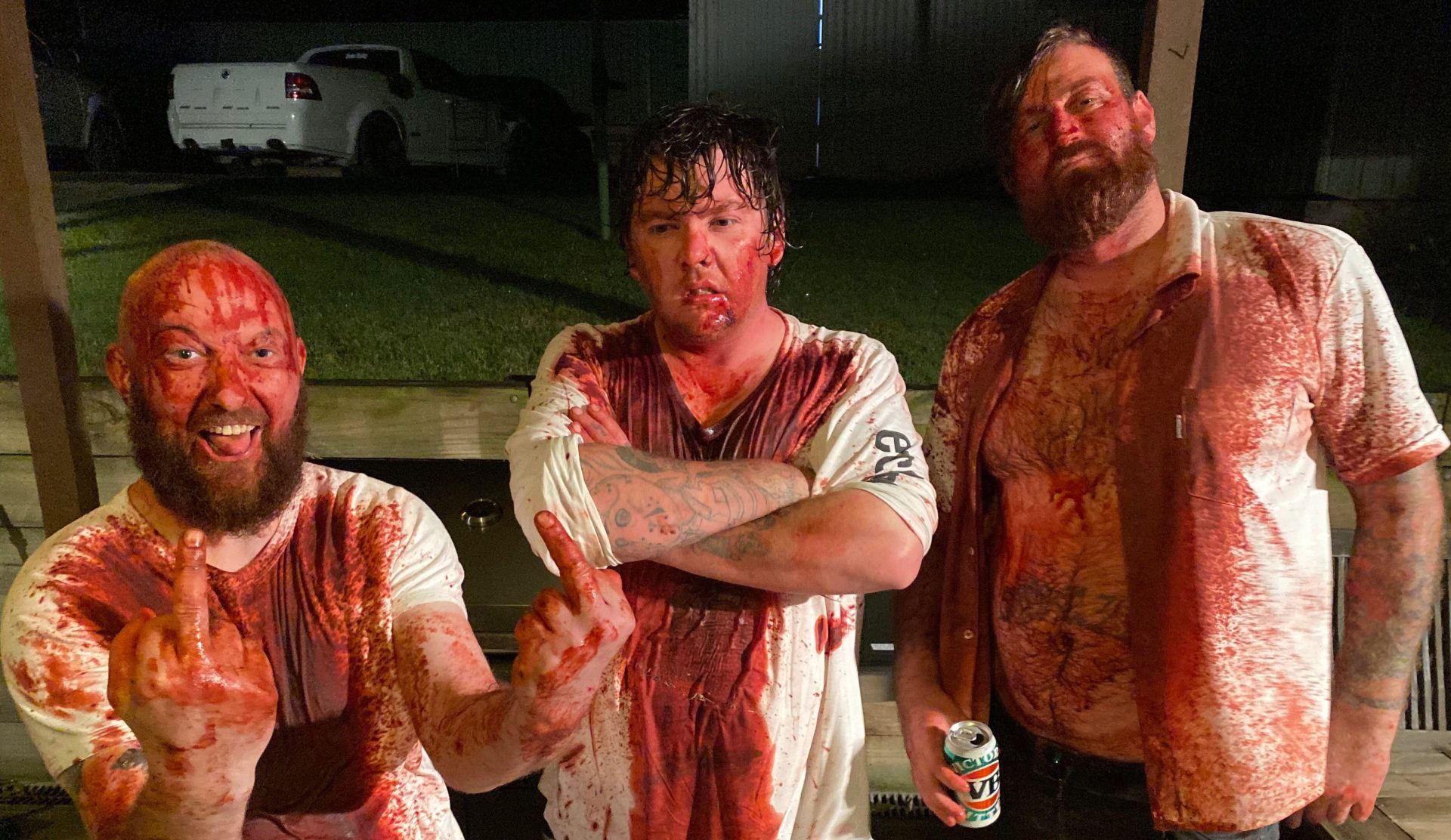 12Gauge Rampage have hit the Aussie metal scene hard with their own brand of violent, slamming death metal and offer an interesting and unique twist with their extremities, playing riff heavy deathgrind without the use of guitars or synth. Everything you hear, tracked and live, is shredded and delivered at pace from bass, drums, vocals… and an abundance of rage.
12Gauge Rampage will release their debut album 'Unleash The Rage' on August 5th through Grindhead Records, featuring Aussie slang influenced tracks such as Longnecks And Dole Cheques, Your Fuckin Mate, Wouldn't Even Piss On Ya and the single killedmorecuntsthancovid, which spawned a very brutal video clip.
The band will also be hitting the road in support of the album which will see them play almost everywhere around the country (some dates have changed and will be updated soon).
The Everblack Podcast had the chance to crack a cold one with the boys from 12Gauge Rampage and talk about their upcoming album 'Unleash The Rage', the video for killedmorecuntsthancovid and it's star and band mascot 'Jase', their origins and writing without guitars, upcoming tour, best beer in Australia and more!
Watch / listen to the interview here:
12GAUGE RAMPAGE appearing at:
7th Aug - The Tote, Collingwood
21st Aug - Hookstock, Clarence
22nd Aug - Frankies Pizza, Sydney
3rd Sep - Diamond Dogs Music Lounge, Dapto
11th Sep - The Basement, Canberra
12th Sep - Bootlegger Bar, Katoomba
16th Sep - Vinnies Dive, Goldcoast
17th Sep - Eleven Dive, Sunshine Coast
18th Sep - The Chook Shack, Murwillumbah
19th Sep - King Lears Throne, Brisbane
25th Sep - The Newcastle Hotel, Newcastle
26th Sep - The Bridge Hotel, Rozelle
Unleash The Rage' album released via Grindhead Records: August 5th, 2021 on Vinyl, cassette & digital pre-order: https://grindheadrecords.bandcamp.com/album/unleash-the-rage