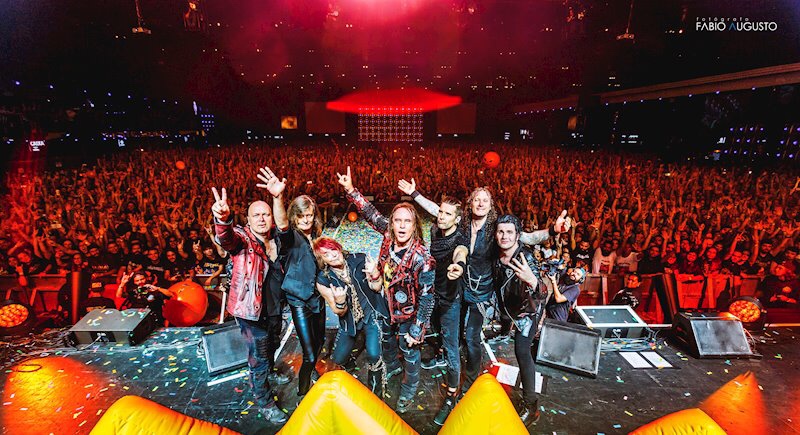 After their hugely successful 'PUMPKINS UNITED WORLD TOUR', German power metal pioneers HELLOWEEN have returned with their new self titled album that marks the triumphant return of original members Kai Hansen (guitars and vocals) and Michael Kiske (vocals), bringing together the seven piece to continue the new era of the band and making them more powerful than ever!
With their signature guitar harmonies, three vocal attack and massive metal anthems, Helloween's new record is hands down one of their best and set to be a fan favourite!
We Caught up with HELLOWEEN's Markus Grosskopf on the Everblack Podcast to talk about their new self titled album and writing as a seven piece, the incredible artwork and it's nod to past covers, the video for Skyfall and it's sci-fi themes, keeping the 'Pumpkins United' line up going for the future, touring Australia and more!
Listen to the interview here :
Along with massive album tracks such as HELLOWEEN classic and album opener "OUT FOR THE GLORY", the epic "DOWN IN THE DUMPS", both written by Weikath, the power metal shouter "MASS POLLUTION" by Deris and Grosskopf's scuff proof rocker "INDESTRUCTIBLE" (which could be an analogy towards the unbreakable career of the band), the album release is flanked by the 'party-track' of the record, "BEST TIME".
Lyrically the song by Sascha Gerstner reminds of the good old days, musically it´s convincing with confident HELLOWEEN style guitar harmonies and a chorus that stays in your long-term memory after hearing it for the first time. With "ANGELS", a no less powerful song of his comes into view, bursting with joy in playing: "Synergy, energy & creativity! These were the main elements on this record. We used old school recording engineering from the 80's merged with the current HELLOWEEN-vibe and here we are: more than 35 years of heavy metal experience on one record!" adds Gerstner.
Besides the line-up and the unique interaction of world class front men – this is what makes the album outstanding: it is a precise time travel through all phases of the band's history, going back to the roots but at the same time at the speed of light towards the future. "HELLOWEEN" offers a complete metal universe within 12 songs.
With all this brand new material an album has been created, an album that is set apart from the digital mainstream and showing the essence of the band was never more solid. This is the beginning of something big – here comes HELLOWEEN!
Helloween is out June 18 via Nuclear Blast Records Order here : http://nblast.de/HelloweenAU