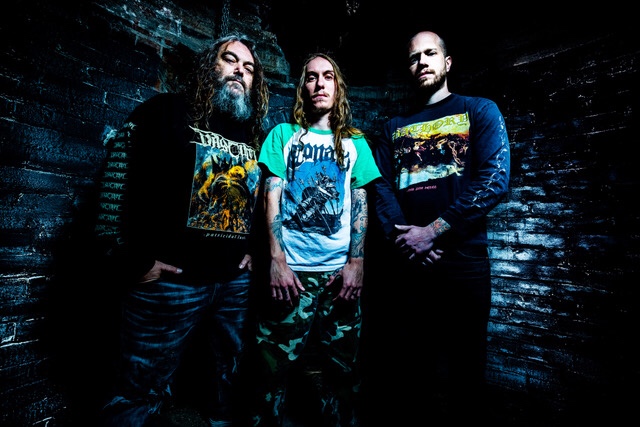 GO AHEAD AND DIE will release their debut self-titled album this week on 11th June via Nuclear Blast. The band sees metal icon Max Cavalera team up with his son Igor Amadeus and Khemmis / Black Curse drummer Zach Coleman to create a raw old-school thrash/death record that sounds like a relic from the glory days of the genre with the same lyrical venom and 'fuck you' attitude.
We hung out with Igor Amadeus Cavalera from GO AHEAD AND DIE on the Everblack Podcast to talk about the debut album with his Father Max Cavalera, having Jeff Walker from Carcass design the logo, growing up discovering music in the Cavalera household, his work as an author and more!
Watch/listen to the interview here:
The spirits of crust-punk and early grindcore are alive and unwell in GO AHEAD AND DIE. It's palpable. Classic bands like DOOM, ANTI CLIMEX, ENGLISH DOGS, EXTREME NOISE TERROR, and DISCHARGE are all reference points. There's also the sloppy bludgeoning power of bands like HELLHAMMERand the ferocity of TERRORIZER and NAPALM DEATH. (Jeff Walker, one of the guys from CARCASS, even designed the group's logo.) These are all bands loved by both Max and his son. The senior Cavalera credits Igorwith keeping him in the know about young bands, too, like FULL OF HELLand BLACK CURSE.
Titles like "Truckload Full of Bodies," "El Cuco," and "Worth Less Than Piss" hint at the devastation to be heard. Across 11 paint-stripping songs, GO AHEAD AND DIE exorcises pain, anguish, and confrontation. No societal ill is safe: the pandemic, religious zealots, crooked cops, politicians who put kids in cages, abusers of all stripes, destroyers of the environment are all in this album's crosshairs.
GO AHEAD AND DIE is out June 11 via Nuclear Blast Records. Pre-Orders Are Available Here: Pre-Sale link: http://nblast.de/GAAD-AU