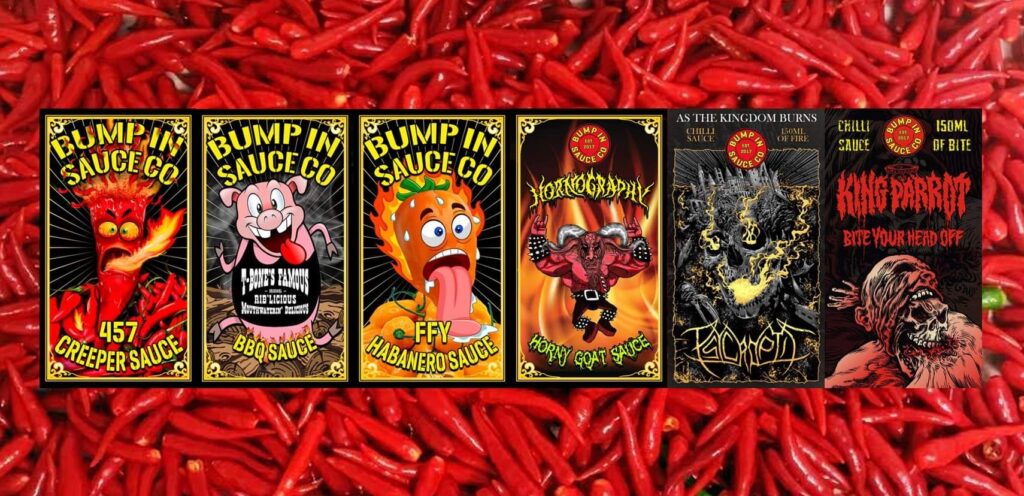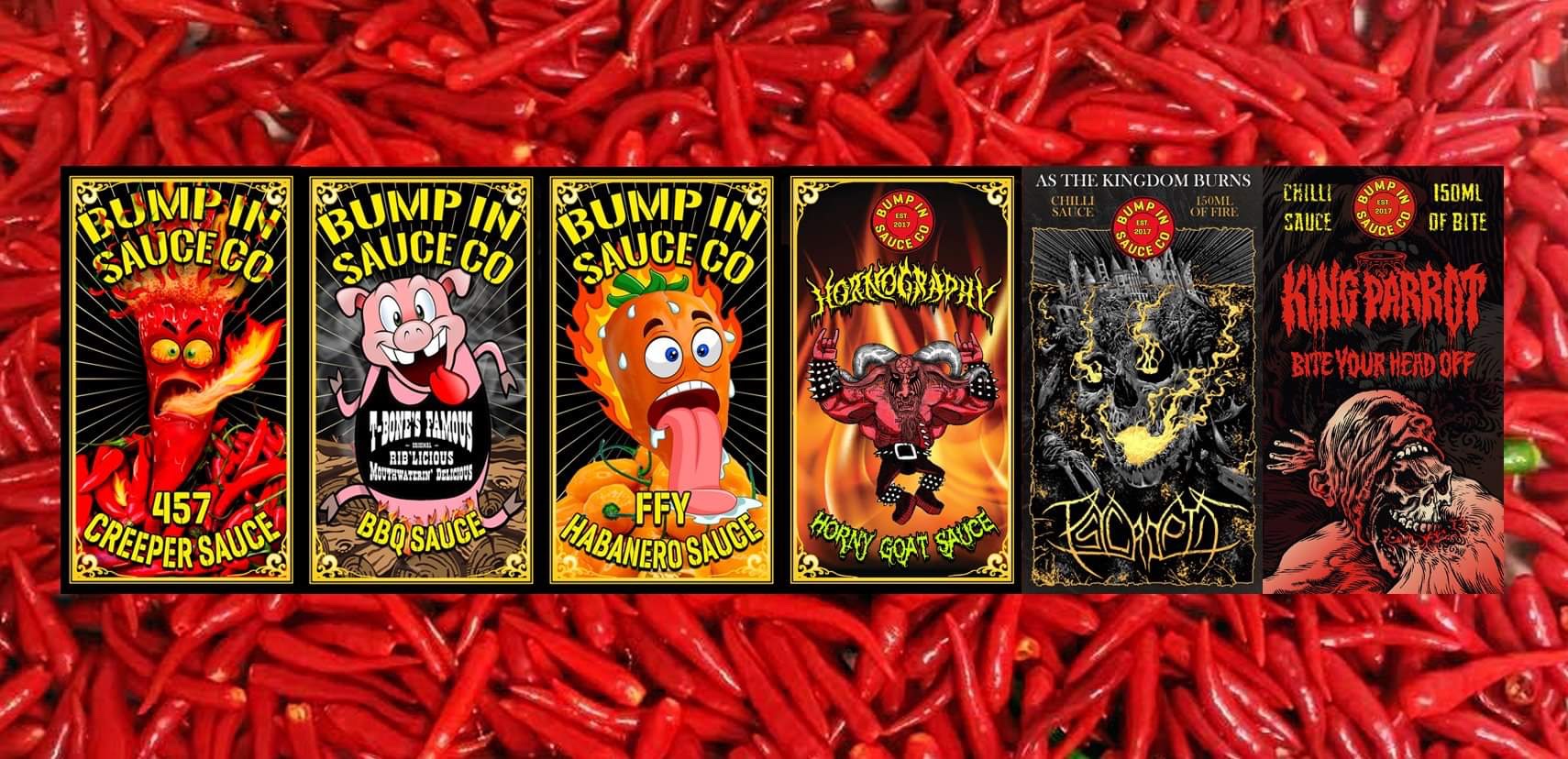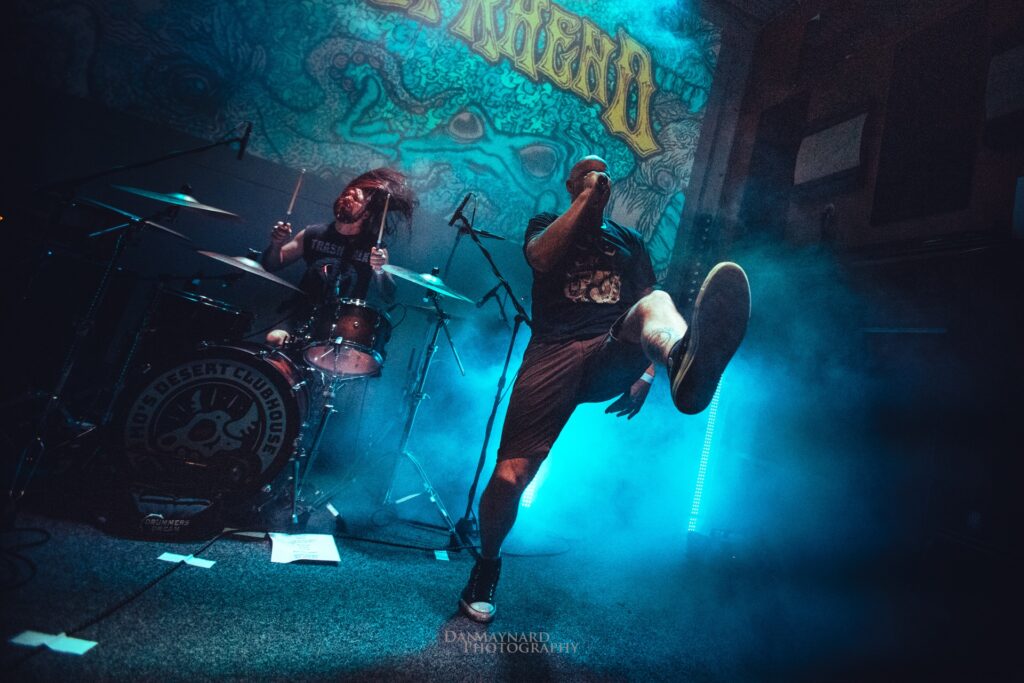 Review : Nev Pearce | Photos : Dan Maynard
|Gallery Below|
We have been extremely lucky to see some really great shows of late here in QLD, but tonight's gig at Mo's Desert Clubhouse has been one a lot of people have been hanging for including me, there are great line ups and then there are fucking awesome ones in amazing venues like this that you just simply cannot miss and going by how many familiar faces were in the room, many other punters agree.
The show kicks off with Brisbane two-piece thrash band F.U.C, featuring Aussie drum legend Todd Hansen and the dude I've only ever known as Dan From F.U.C.
Over the years F.U.C has built up a local following due to their high energy (and hilarious) live show, with their own special blend of face-melting riffage, blasting thrash beats while donned in Fluro green mankini's that reveal way too much, the band get the party's started early with catchy songs about saving the Dolphins, Elephants and Dick Massages and it sets the tone just perfect for what's to follow.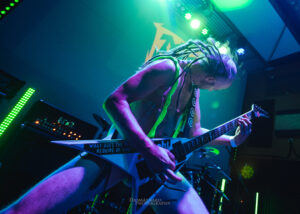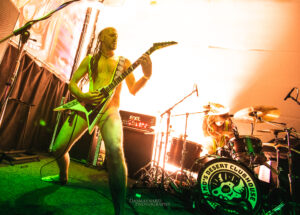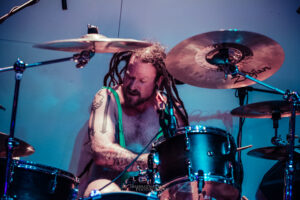 When it comes to live bands in the QLD scene, Massic are THE band I never want to go on after. They are one of the most intimidating live acts this country has to offer and every time I have witnessed them they have somehow gotten tighter and levelled up again.
Frontman Simon Russell-White is quite simply a fucking beast with nerves of steel, his energy and stage presence is astonishing even after his recent health issues, the man has seemed to come back with more fire and drive than before and I found it inspiring and emotionally moving that despite what he had been through, his passion and love for what he does is still there and that is evident in the raw energy that circulates between him and the members of the band whenever they play, fucking incredible.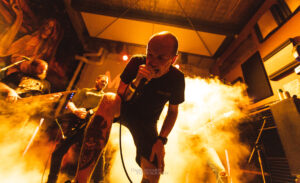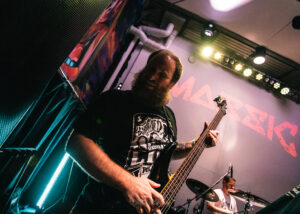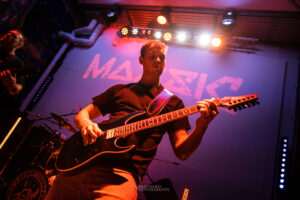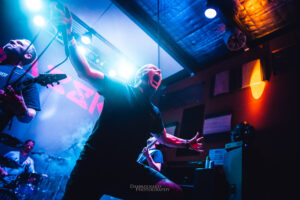 Now it's no secret that Azreal are a massive drawcard tonight, they have been playing the local scene for over a decade and built up a loyal following over that time that has definitely earned their place in QLD metal history and beyond, having toured internationally to acclaim as well. It's been a little while between drinks and the break from playing has definitely gotten the fans pumped for their set and crammed into Mo's to throw down like old times.
The boys don't miss a beat and throw everything they have into their set which gets the whole place moving. Playing some of the crowds most loved tracks like Rot, So Long, Fall to Pieces, Cease to Be and a blistering cover of White Zombie's Supercharger Heaven, you cannot deny that Azreal is one hell of a band and staple of the scene, welcome back boys!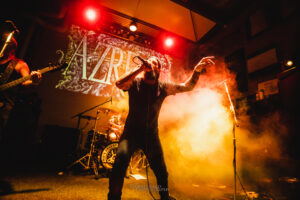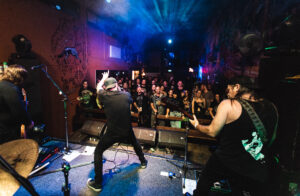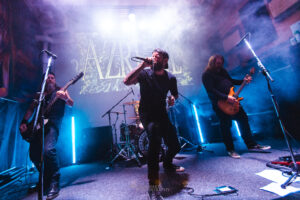 Tonight is Black Rheno's return to the live stage in a very long time, you can sense that the band have been anticipating this moment for months and there's an almost electric vibe in the air before they even start to play that builds to almost breaking point.
The tension is finally unleashed as they launch into a full-scale attack and the room just erupts with them. For a three-piece of drums, guitar and vocal they sound incredibly huge and it's mind-blowing how they achieve it with just a simple set up.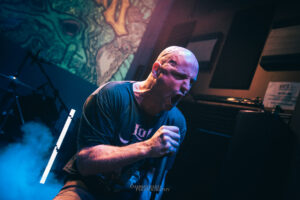 Offstage, vocalist Milla is one of the most chilled out and personable people you can talk to…..onstage though I'm not even sure it's the same person. Thrashing around like a man possessed with the voice of a thousand maniacs from hell. Milla is unpredictable, chaotic and an unstoppable force who demands your attention and keeps it throughout their hurricane of a set with charismatic humor and intensity, there is no one quite like him and a key ingredient to their fun live experience.
With the addition of new drummer Kieran Smith, Black Rheno have really kicked it up a notch, Smith is an astonishingly heavy hitter and even for his first show with the band he plays like he has been with them for years locking in with guitarist Nano perfectly.
Nano is a master at his craft, his riffs are so damn infectious and huge that they get everyone in the room banging their heads and shaking their arses, there are even a couple of times I can hear a conversation behind me of 'how the fuck is he doing that / getting that sound', the dude is a shred lord plain and simple.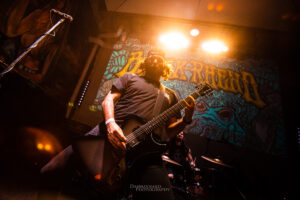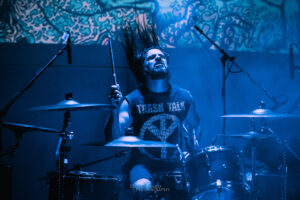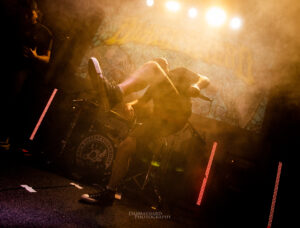 One of the highlights of their set is when they are joined by Si from Massic for 'No Time for Numb Nuts'. Watching the two legendary frontmen trade lines and play off each other is a treat and worth the admission price alone!
With catchy songs and a killer live show Black Rheno are definitely 'Battle Ready' and deserve all the praise and acclaim that comes their way for their work ethic.
Do yourself a favor, hell or high water go and see them on this tour, you won't regret it!
For tickets and info for the rest of the 'Battle Ready Tour' head to www.blackrheno.com
Black Rheno – Battle Ready (Official Video) – YouTube