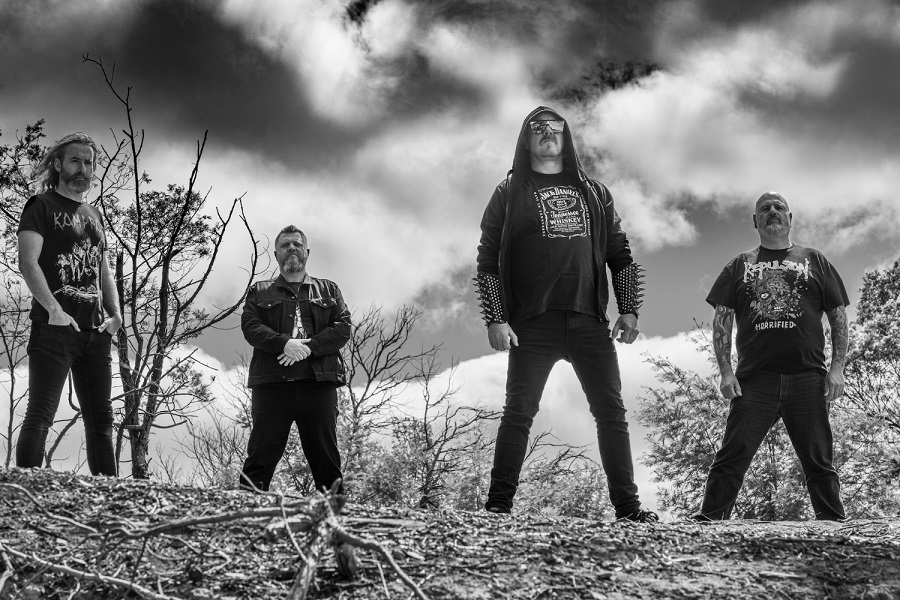 Melbourne extremists REMAINS have just released their debut album "Grind Til Death" via Disdain Records.
Featuring members of legendary bands such including Blood Duster, Captain Cleanoff, The Kill, Fuck I'm Dead, King, and The Day Everything Became Nothing, Melbourne maniacs, Remains, burst onto the scene in 2019, fusing grindcore and death metal to devastating effect and have released one of the most powerful and face melting debuts
The Everblack Podcast spoke to Remains frontman Tonebone about their brutal debut 'Grind Til Death', the video for Bloodthirst, extreme lyrics, fronting legendary metal band Bloodduster and more!
Watch/listen to the interview here: 
Remains play extreme stadium sized riffs with epic blasting assaults and windmilling rockin hooks to blow your fucken lids clean off! Having already made themselves known on the scene through a series of jaw dropping homegrown shows and much talked about opening sets for legendary international touring bands such as Obituary and Cb have carved their name into the Australian underground. Next stop, world domination of the extreme underground metal scene!
The bands debut album "Grind Til Death" was mixed and mastered by Joe Haley of Psycroptic so you know just how massive it's going to sound, it also packs 18 songs of absolute fury into a total running time of around 35 minutes. Eat ya heart out Reign In Blood!
Remains recently signed to Australian punk headbangers Disdain Records for the Australian release of the record and new Italian powerhouse Spikerot Records will take care of the rest of the world.
Remains – 'Grind Till Death' is available now from www.disdain-records.com