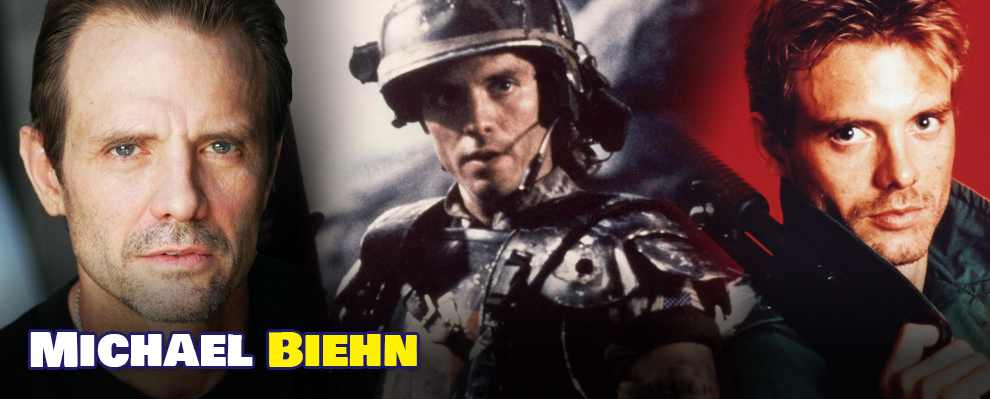 Michael Biehn….Terminator….Aliens…Tombstone….(yes THAT Michael Biehn!!) is coming down to Australia for Supanova Comic Con and Gaming in Sydney this week to meet his legions of fans!
With so many iconic roles on his resume including Kyle Reese (Terminator) and Corporal Dwayne Hicks (Aliens), Michael Biehn has not only carved out his legendary career in Hollywood but also earned the love and respect of many people who grew up watching his movies and have been inspired by his tough as nails but very human characters over the years.
The Everblack Podcast sat down with legendary actor Michael Biehn to talk about meeting fans at Supanova Comic Con and Gaming expo in Sydney and Perth, how his legendary characters like Kyle Reese (Terminator) and Corporal Dwayne Hicks (Aliens) have inspired people, working with James Cameron, his thoughts on the shut down of Neil Blomkamp's Alien sequel, working on The Mandalorian, filming in Australia and more!
Watch/listen to the interview HERE :
Michael Connell Biehn was born on July 31, 1956 in Anniston, Alabama, to Marcia (Connell) and Don Biehn, a lawyer. He grew up in Lincoln, Nebraska, and at age 14 moved with his family to Lake Havasu, Arizona, where he won a drama scholarship to the University of Arizona. He left prematurely two years later to pursue an acting career in Hollywood. His first big role was as a psychotic fan stalking Lauren Bacall in The Fan (1981) and later appeared in The Lords of Discipline (1983).
He hit the big-time when he was cast as Kyle Reese, the man sent back through time to stop Arnold Schwarzenegger in James Cameron's The Terminator (1984). This established a good working relationship with Cameron, a relationship that should have catapulted Biehn to international stardom. He starred in Cameron's subsequent films, Aliens (1986) and The Abyss (1989), the latter a stand out performance as unstable Navy SEAL officer Lt. Hiram Coffey. In the 1990s he starred in films like Navy Seals (1990), K2 (1991) and was particularly memorable as Johnny Ringo in Tombstone (1993).
Biehn is married to Jennifer Blanc-Biehn and the father of five sons. He made his directorial debut with The Victim starting himself and Jennifer. They started their company Blanc Biehn productions once The Victim was released by Starz. Anchor bay and the Weinstein company. They continue to make movie and give lots of new talent a creative say in film making.
Supanova Comic Con & Gaming began in Sydney in 2002 as a completely home-grown Australian production showcasing sci-fi, fantasy, comic books, anime, manga, games, cosplay and much more. The brainchild of Founder Daniel Zachariou, Supanova is run by a diverse and passionate team of independent professionals with backgrounds in private industry and the creative sector. Supanova takes place in six cities (Sydney, Melbourne, Brisbane, Perth, Adelaide and the Gold Coast), and is Australia's leading and largest event of its kind.
Supanova is a celebration of pop culture created by the Supanova family, for your family, to "bring out the inner geek" in fans of all ages.
SUPANOVA 2022 DATES:
Sydney: 18-19 June 2022 | Sydney Showground Olympic Park
Perth: 25-26 June 2022 | Perth Convention & Exhibition Centre
Brisbane: 5-6 November 2022 | Brisbane Convention & Exhibition Centre
Adelaide: 12-13 November 2022 | Adelaide Showground
Tickets on sale now at http://www.supanova.com.au/