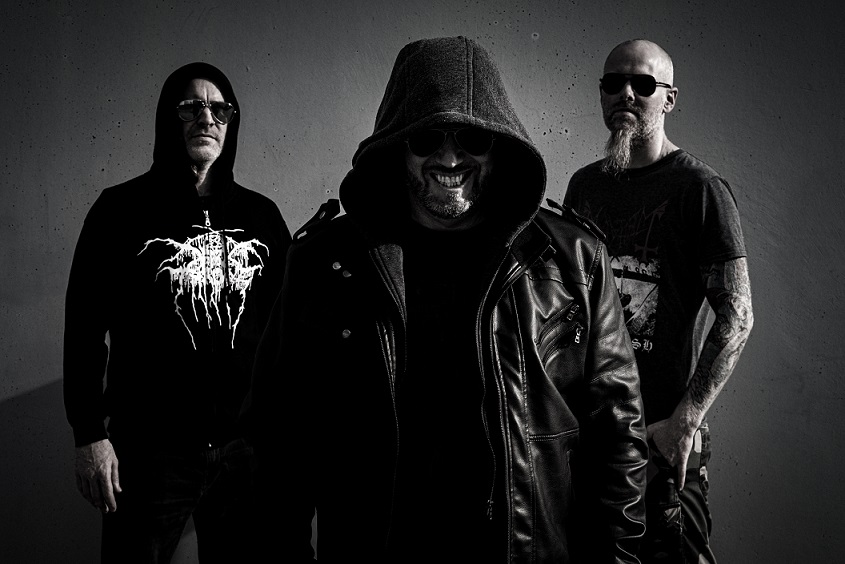 Australian death metal trio Werewolves have recently announced their third full-length album, 'From The Cave To The Grave' set to be unleashed via Prosthetic Records on June 24th, 2022
The band featuring drummer Dave Haley (Psycroptic, Abramelin, Ruins, King, Blood Duster), guitarist Matt Wilcock (The Antichrist Imperium, The Berzerker, Abramelin) and bassist/vocalist Sam Bean (The Antichrist Imperium, The Berzerker) have already built up a rabid fan base with their two previous efforts 'What a Time to Be Alive' and 'The Dead Are Screaming', all without even playing live as yet with their first show set to coincide with the 3rd albums release on June 25th.
The Everblack Podcast caught up Werewolves frontman and bass player Sam Bean to talk about their new album 'From The Cave To The Grave', hilariously offensive brutal lyrics and parenting, playing their first live shows and why they are better than you!
Watch/listen to the interview HERE :
'From The Cave To The Grave' keeps up the searing pace of the first two Werewolves albums, with a mix of black and death metal and unprecedented aggression that is coalescing into a style of its own. Opener Self-Help Book Burning kicks the door in Hate Eternal-style before deforming into a blackened ending.
It's followed by stadium crowd-pleaser We Are Better Than You, blaster All the Better to Eat You With, and social credit score-destroyer Crushing Heaven's Mandate. Harvest of the Skulls is an ode to the horror of genocide and the rest of the album blasts through to closing threat Watch Your Mouth, leaving you to enjoy your ringing ears and mild trauma.
The mixing is by Joe Haley (Psycroptic) and the artwork is by Mitchell Nolte. Slayer never changed their shit up, neither will WEREWOLVES. "Change" can be mistaken for "progression", which WEREWOLVES shrinks in horror from.
Werewolves – 'From The Cave To The Grave' is out June 24 via Prosthetic Records.
Stream:  <https://werewolvesdeathmetal.bandcamp.com
CD Pre-order:  <https://lnk.to/werewolvesdeathmetal