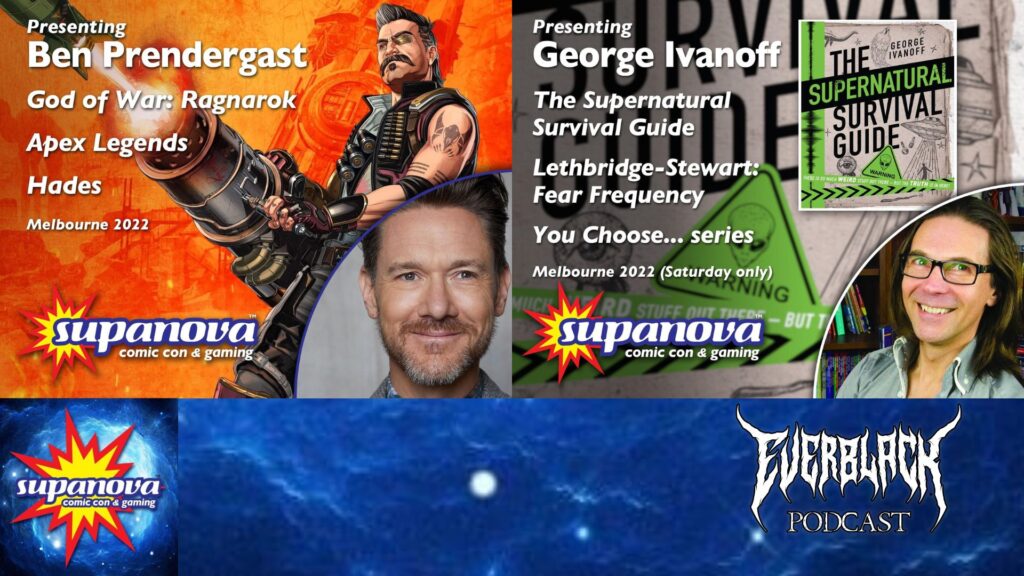 With the return of Supanova Comic Con & Gaming's Melbourne convention just around the corner on 5-6 March, we'll spell it out for you: T-A-R-D-I-S. That's 'Time And Relative Dimension In Store' for Victorian Supa-Fans, as Doctor Who's ninth Doctor Christopher Eccleston makes his first-ever Supa-Star appearance (on Sunday only).
Joining Eccleston for much anticipated convention will be The Matrix's Matt Doran, Star Wars Resistanceand God Of War : Ragnarok voice actor Ben Prendergast, Aussie all-stars Tammin Sursok, Lincoln Lewis, and John Jarratt, author George Ivanhoff and many many more!
Celebrating it's 20th Anniversary this year, Supanova Comic Con & Gaming began in Sydney in 2002 as a completely home-grown Australian production showcasing sci-fi, fantasy, comic books, anime, manga, games, cosplay and much more and has seen an impressive line up of guests over the years bringing fans of all ages together with their heroes to express their love of all things pop culture.
The Everblack Podcast sat down with two of Melbourne's Supanova Comic Con & Gaming guests to talk about the event this weekend, voice actor Ben Prendergast (Star Wars : Resistance/God Of War: Ragnarok/ Apex Legends) and author George Ivanhoff (The Supernatural Survival Guide, Lethbridge-Stewart: Fear Frequency, You Choose… series)
Watch/ listen to the interviews here:
Born and raised in Melbourne, Australia, Ben Prendergast is an actor/producer who now resides in Los Angeles.
He has worked extensively across film, TV, and theatre productions, most recently in Preacher for AMC, Predestination with Ethan Hawke, and numerous productions for the Red Stitch Theatre company and Melbourne Theatre Company.
In 2016, he was awarded Australia's prestigious Green Room award for Best Actor for the production Sea Wall.
After moving to the US, he quickly established himself as a formidable voice artist, and is best known for his work as General Hux in Star Wars Resistance and The Star Wars LEGO Holiday Special, Fuse in Apex Legends, Patroclus in Hades, Jae in Scavengers, and Mathias Croft in The Sojourn.
George Ivanoff is a Melbourne author and fanboy who has written science fiction, fantasy, media-tie in and a whole heap of other stuff. His media tie-in books and short stories include adventures in the worlds of The X-Files, Doctor Who, Lethbridge-Stewart, UNIT, The Lucy Wilson Mysteries, Night Terrace, Deadworld and even Behind The News (BTN). His books for kids and teens include the Gamers trilogy, the interactive You Choose series, the RFDS Adventures, the OTHER WORLDS series, and the non-fiction Survival Guides; as well as a ton of school readers and educational books. His latest books are The Supernatural Survival Guide and Lethbridge-Stewart: Fear Frequency. George's books and stories have been shortlisted for numerous awards and he's even managed to win a few of them.
SUPANOVA 2022
Melbourne: 5-6 March 2022 | Melbourne Showgrounds
Tickets to the event are on sale now via Moshtix.
For full guest line up and info :