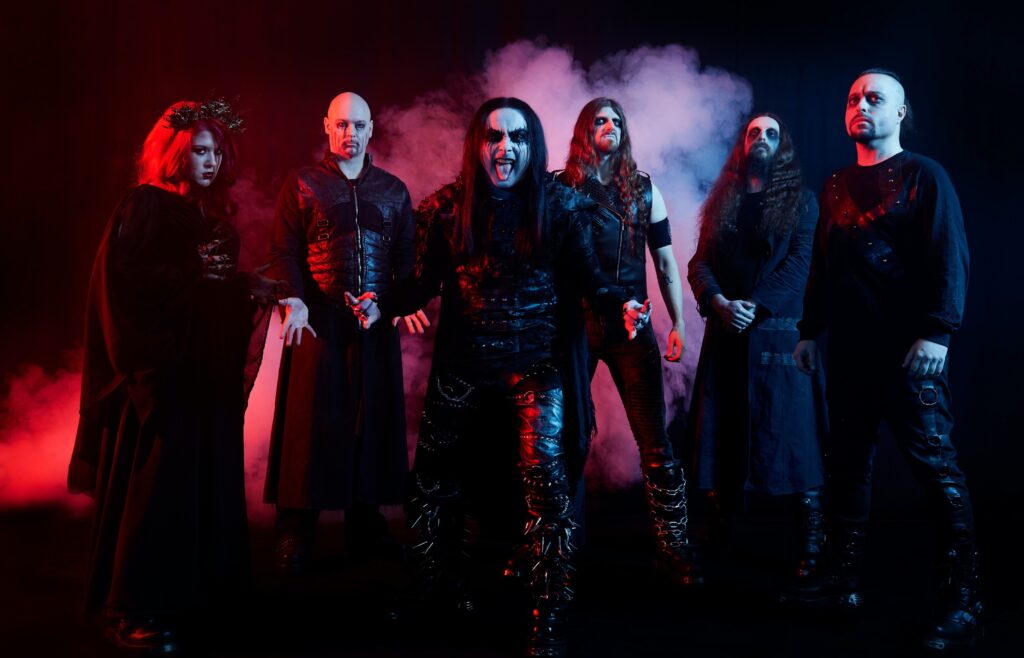 CRADLE OF FILTH are undisputed giants of the heavy metal realm. Imperious purveyors of a perennially unique strain of dark, dastardly and willfully extreme metal, with deep roots in the worlds of gothic horror and occult curiosity, the band led by Dani Filth has weathered three decades of tumult and trial, earning a formidable reputation as both a singular creative force and one of the most riotously entertaining live bands the metal world has ever produced.
In more recent times, CRADLE OF FILTH have hit an unmistakable hot streak of creativity and urgency. As a new line-up coalesced around the creation of 2015's 'Hammer Of The Witches', fresh impetus propelled the band to new heights, as the revitalized crew became more in demand around the world than ever before. 2017's 'Cryptoriana – The Seductiveness Of Decay' repeated the trick with even more explosive flamboyance. Until a global pandemic brought the music industry to a jarring halt, CRADLE OF FILTH were almost permanently on the road and absolutely fucking flying. As a result, it should surprise no one that the band's brand new album, 'Existence Is Futile', is yet another monumental and electrifying journey through the dark.
The Everblack Podcast sat down with Cradle Of Filth keyboardist and vocalist Anabelle Iratni to talk about the creation of 'Existence Is Futile', how she ended up joining the band, what it's like to work with Dani Filth, the C.O.F ale from Venom Beer, her love of Australian wildlife, Star Trek and more!
Watch/listen to the interview here:
Sonically speaking, Existence Is Futile is easily the most powerful and dramatic record CRADLE OF FILTH have ever made: it's the sound of band's enviable onstage chemistry spilling over into the studio, propelling each member of the band to new levels of intensity. Combined with the expected labyrinthine arrangements and moments of spellbinding bombast, »Existence Is Futile« may be the most vivid representation of the CRADLE OF FILTH experience yet.
Also, diehard fans will be thrilled to learn that horror icon Doug 'Pinhead' Bradley makes a welcome return to the CRADLE fold, lending his dulcet tones to the epic 'Suffer Our Dominion', and to one of the forthcoming new record's bonus tracks, as Dani explains.
"There are also two bonus tracks in addition to the album, one of which is the culmination to the 'Her Ghost In The Fog' trilogy, which began on »Midian«. For this we had little hesitation in enlisting our friend and actor Doug Bradley to reprise his narrative role. Doug lives in Pittsburgh, which he refers to 'The Pit', thus we directed his narrative over Skype from his local studio. He adopts this almost David Attenborough-ish role on 'Suffer Our Dominion', which is possibly the most politically astute song we've written of late. As a band we usually shy from branching into politics, but it's something that needed spouting. The fact we're fucking our ecology up and desperately need to address the situation pronto…"
So, if we're all going to perish in the fire of our own stupidity, we might as well have a suitably deranged and destructive soundtrack to do it by. A bewitching, fearless nosedive into the abyss, the band's thirteenth studio album confirms the ferocious efficacy of CRADLE OF FILTH in 2021. Bold, brave, wildly imaginative and heavy as hell, the band's latest runaway train-ride through the flames is the perfect album for these most imperfect of times. As Dani concludes, "Be like the virus! Mutate and survive!"
Cradle Of Filth – 'Existence Is Futile' is out October 22 via Nuclear Blast Records
Order here:
Digital – https://bfan.link/existence-is-futile.ema
Physical – https://bit.ly/3aTjrFM
Cradle of Filth x Venom Brewing 'King Chaos' Impaler Ale available here : https://bit.ly/2Xw5xGw