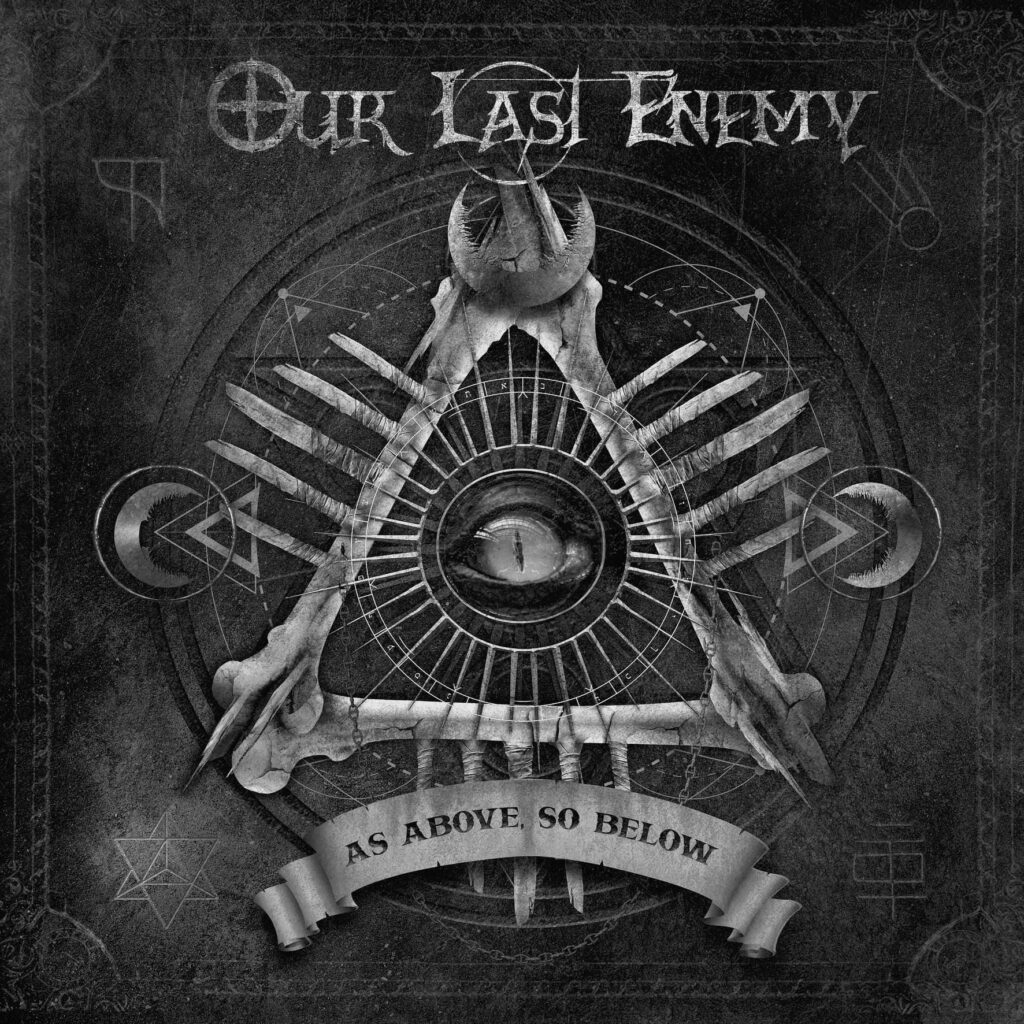 Review : Zane Seymour
Since drawing first blood in 2006, Our Last Enemy have carved an expansive, yet well-defined niche with their sound, cutting deeper with each release.
However, a blade capable of such signature slashery can be double edged.
Even for a band that has never shied from diversification, a comfortable groove is only a lazy hack away from becoming a rut.
Following a number of line up changes, 2017's surprise cover of The Prodigy's "Spitfire" hinted that metamorphosis was afoot behind Enemy lines.
After a near decade since their last official release, can OLE carve fresh flesh whilst maintaining the signature of their blade-stroke?
The aptly named first track, Long Time Coming, creeps in with airy, tortured synth pads that open the door to a cavernous plucked intro.
The first verse wastes no time in emotively heralding the band's return whilst ripping the proverbial band-aid away from the tender comfort zone.
Melodic, yet gritty vocals bear the calluses of the years, coupling with the spacious, restrained arrangement to tell a tale of struggle and persistence.
Battle weary sentiment builds momentum and subsides to a tenacious air of defiance. The uplifting tempo escalates the listener to psychological precipice…and drops us into a hi-hat pumping, anthemic chorus that is virulently catchy and disturbingly danceable as gang vocals call for a triumphant fist pump.
It's official – Our Last Enemy are back, but perhaps not as we know them.
If Long Time Coming's radio-friendly divergence is source of discontent for any old school OLE fans, Decline Artophy delivers brutal restitution.
As a jilted harpsichord intro gives way to a relentless ground & pound barrage, the first verse jackhammers into a neurologically imposing progression; Each rigorous rhythmic variation accompanied by synthesised spectres that howl from the edges of the fray as classic metal guitar lead cuts though the thick flesh of this heaving beast of a track.
The callous onslaught breaks down into an epic 'rock opera' of an outro before the broken harpsichord returns to lead us to back to relative safety from the preceding aural mosh pit in bruised and battered masochistic satisfaction..
A Thousand Visions drags us double kicking and screaming with joy straight back into the pit, continuing the air of familiarity with what feels like a subtle nod to 2012's Wolves of Perigord. Intelligently staggered, offbeat staccato and blast beat Tourette's outburst are complimented by satisfying head-nod groove moments and windmill-worthy rolling doublekicks.
Classic Enemy, and sure to be a crowd pleaser live.
Our trip down nostalgia lane is brought to an abrupt end as the mechanised intro to Never Coming Back snaps us back to the polished present, chopping from one movement to the next with enough subtle variation in the cyclical narrative to avoid it becoming stale with each repetition. The varying verses feel like they're telling a story from contrasting viewpoints, building tension that is alleviated in the chorus
Somber and cinematic, the EP's final track, The Holy Ones, takes its time to set the scene. Displaying a similarly restrained maturity as the opening track, laconic drums and a slithering yet poignant bass line anchor the layers as rich, melodic vocals drizzle over a texture of wailing guitars interspersed with sizzling interference.
The hypnotic spell is soon broken by a thick, punchy chorus with lead guitars in dysphoric harmony with the grinding rhythm.
Escalating further, the remainder of the track bring it home with the catharsis one would hope for in an end track before the plug is pulled, bringing "As Above, So Below" to abrupt, well deserved completion.
The EP's namesake, a phrase of hermetic origin, refers to universal interconnectedness and how seemingly opposing forces are actually one and the same; A theme aptly represented here as five standalone novellas that come together to form one epic tome.
Each track tells its own part of the overall story and while at times there are a lot of moving parts, there is a balanced, consistent cohesiveness about it all.
From the compositional structure and delivery of each song, through to the final production, each element is complimented by a satisfying counterweight and seems indispensably at home in the mix.
Seething beneath the thrall is a sinister, bit-crushed, EQ tweaking crunchscape that underpins the narrative, reinforcing consistency and forming a gritty industrial foundation for the rest of the elements to sit within.
It feels a somewhat brazen choice to open with "Long Time Coming" as not only is this arguably the furthest divergence from familiarity, but vocally, feels akin to coming in part way through an ongoing dialogue.
But in essence, this is true. While we may not have borne witness over the years, the story of Our Last Enemy has been written in unseen persistence.
And so it is that As Above So Below brings us into a story of a band who have changed and grown over time, yet remained irrevocably themselves.
Indeed, Our Last Enemy have gouged deep and wide with this onslaught, dislodging a bounty of the freshest flesh yet. But thankfully, the signature slash patterns are clearer as ever.
Our last Enemy – 'As Above So Below' is out May 14 via Octane Records. Order here :
https://lnk.to/oleaasbhttps://lnk.to/oleaasb
FINAL RELEASE TRACKLISTING
1. A Thousand Visions
2. Never Coming Back
3. Long Time Coming
4. The Holy Ones
5. Decline Atrophy