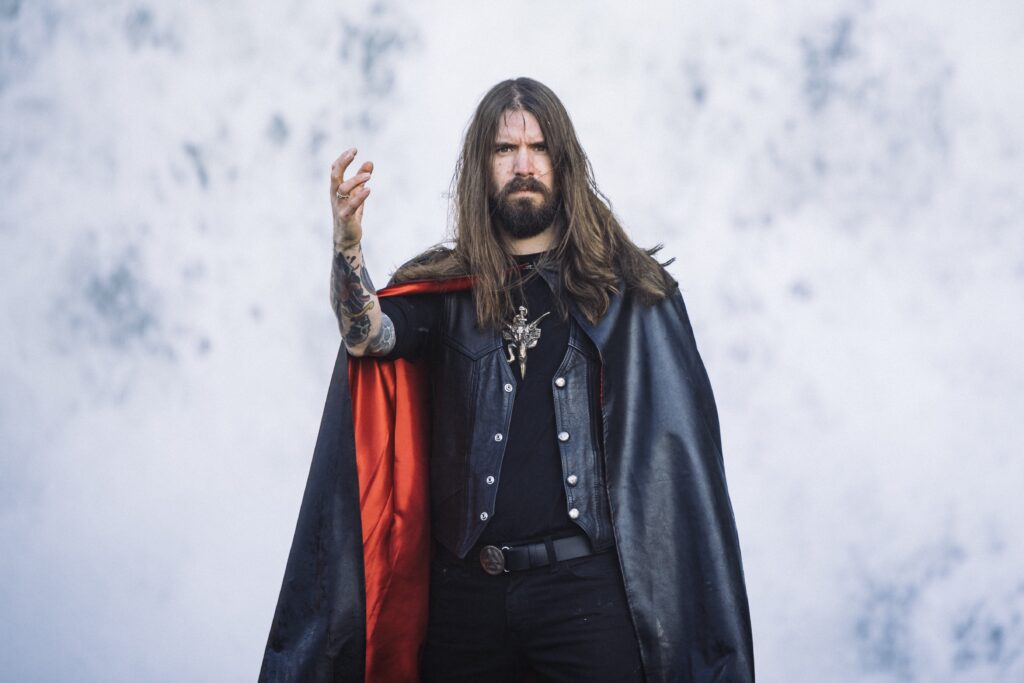 Erlend Hjelvik is going on a journey to Hel and he wants you to go with him!
Formally the frontman and co-founder of the Norwegian party-rockers Kvelertak, Erland parted ways with the band in 2018 and has set out on his own path of fire and metal with his new project HJELVIK, unleashing the debut album 'Welcome to Hel' on Friday November 20 through Nuclear Blast Records.
We sat down with Erlend for the Everblack Podcast to talk about his new band HJELVIK's debut and it's metal driven direction, getting Matt Pike to guest on the track 'Glory of Hel and its animated video, the reaction so far from Kvelertak fans and the the unsettling Norwegian translation of 'Fosters'.
Stream interview HERE :
Steeped in the classic sounds of metal, both underground and mainstream, and enshrouded in a mystical fog of Norse mythology, HJELVIK's first immaculate collection of monstrous anthems is the sound of a modern god of heaviness embracing the spirit of the old school and injecting it with his own, unique, genre-blurring charisma. Recorded at The Hallowed Halls in Portland, Oregon in collaboration with studio guru Justin Phelps, Welcome to Hel is a vivid and vital testament to Erlend Hjelvik's instinctive metal mastery and a celebration of the music that first inspired the Norwegian to start screaming many years ago.
"Over the last couple of years I really started listening to a lot of metal again," he notes. "While I was in my last band, I just didn't listen to it as much, particularly when I was on tour. So I started getting in the mood for it again, and that definitely seeped through. I feel like I regressed a little bit, I just started feeling inspired by bands that I liked when I was a lot younger. So suddenly I'd write something that would sound like some old DIMMU BORGIR riff! [Laughs]. But I've been inspired by a lot of first and second wave black metal, thrash metal bands… just the classics, basically!"
From the opening seconds of explosive kick-off "Father War" onwards, Welcome to Hel could hardly be a more bombastic or furious first foray for HJELVIK. Pounding, mid-paced clarion cries like "Thor's Hammer" and "The Power Ballad Of Freyr" point to a profound understanding of heavy metal's fundamental power, but there is plenty of frostbitten spite and otherworldly menace lurking amid these songs, too. From the menacing but instantly memorable "Glory Of Hel" to the wild melodrama and skewed dissonance of closer "Necromance", HJELVIK are gleefully stirring up a strange, idiosyncratic sonic blend that provides their leader and frontman with the perfect, scorched-earth backdrop for his twisted tales of ancient chaos.
"I came up with 'blackened Viking heavy metal' as a description,"Erlend grins. "I think that hits on everything that's in there. The songs are all about Norse mythology and Norwegian history, and I mixed a lot of personal experiences in there too. It's called Welcome to Hel, so obviously I've been pretty fascinated with the idea of underworlds in Norse mythology. There's a song called "North Tsar", which will be the first single, and that's based on Odin being a real-life person, a warlord coming from the East somewhere, and fighting his way to the West. So I like to throw some real elements in there, too."
Order HJELVIK – 'Welcome to Hel' HERE :
Physical: https://www.jbhifi.com.au/?q=Hjelvik%20Welcome%20to%20hel&hPP=36&idx=shopify_products&p=0
Digital: https://music.apple.com/au/album/welcome-to-hel/1528944382