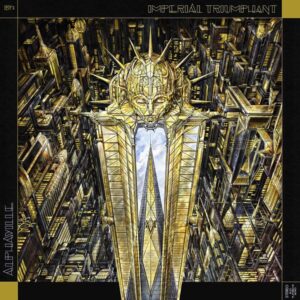 Review : Nev Pearce
Imperial Triumphant are quite the enigma.
Hailing from New York the avant-garde black/death metal trio have been carving away at their craft in the underground scene since 2005, but over the last couple of album cycles, they have gained more international attention and grown their cult-like following in staggering numbers.
After stumbling across the track Swarming Opulence from their Vile Luxury album earlier this year, I fell down the rabbit hole and found myself drawn into their mysterious and sometimes terrifying musical world of black/death, jazz, experimental noir metal that transported me into a very dark alternate universe every time I put them on.
The amazing thing about Imperial Triumphant's music is it is open to interpretation and each album feels like a tour through different parts of an alternate reality 1950's New York City.
But unlike their previous releases, the setting of their latest album Alphaville seems to take the listener further underground to New York's underbelly and really paints a bleak atmospheric picture of what's beneath.
The album starts off with the unsettling slow build of Rotted Futures and once it kicks in the power trio drag you on a hellish ride of apocalyptic soundscapes.
There are some subtle familiar threads in their sound that I couldn't quite put my finger on initially, but that all became very clear once it was announced that Trey Spruance of Mr Bungle had a hand in Alphaville's creation.
You can hear those influences particularly in Zachary Ilya Ezrin's guitar playing in Rotted Futures and spread throughout the record which is insanely cool and only made me dig the band even more.
Excelsior continues the descent into madness and takes a very disturbing turn with what sounds like a noisy underground subway station with screeching train brakes echoing through a tunnel over a distorted mechanical industrial beat and at this point you get the feeling that there is no turning back.
Another guest on the album is Tomas Haake of Meshuggah who contributes to the song City Swine, while the track is anything but your standard sludge metal affair with its strange time signatures and piano runs, it's definitely one of the more straight forward slow heavy groove jams compared to the rest of what Alphaville has to offer.
Once the album hits Atomic Age things start to get really interesting as the band shows more of their crazy experimental side.
Complete with barbershop quartet intro, layered incoherent screams over a wall of guitars and drums, it's definitely a standout!
Transmission to Mercury begins as a boozy piano number that lulls the listener into a sense of false security before flipping into a fury of blast beats and screams over a horn section that is brutal, disturbing and dizzying.
Alphaville's journey reaches its climax at the title track and follower The Greater Good, showcasing the bands' ability to bring all their influences and styles together for a big grand finale and something that if played from start to finish live would be quite the experience.
There are also a couple of bonus tracks added in as well, a cover of Voivod's Experiment and The Residents Happy Home.
Both are very cool but feel a bit out of place following the flow of Alphaville.
There is no other band quite like Imperial Triumphant, they continue to push the envelope and what I feel metal needs to help steer it into new exciting territories, and if Alphaville is anything to go by the future looks very bright.
IMPERIAL TRIUMPHANT – 'Alphaville' is out on July 31st via Century Media Records.