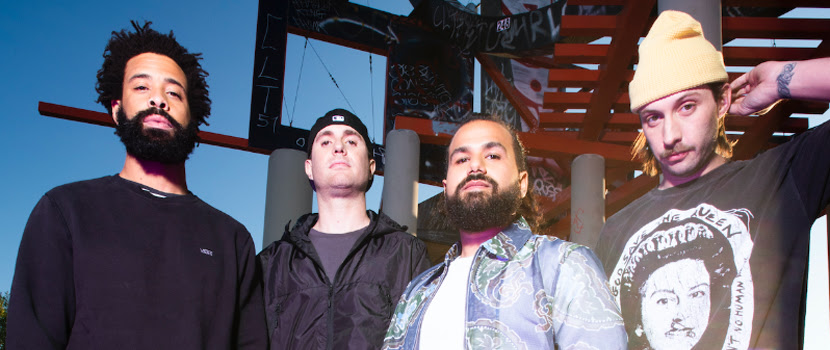 Los Angeles quartet Volumes are set to bring their twisted melodies and bone-shattering grooves to Australia for the first time in almost a decade on the back of their latest opus 'Happier?'
Selling out countless shows, amassing over 60 million streams and garnering worldwide acclaim from Alternative Press, New Noise, Rock Sound, Metal Injection, MetalSucks, Nik Nocturnal, and many more,'Happier?', released via Fearless Records, makes the fourth full length record for the group. Renowned for their signature boundary-breaking balance of guttural grooves, magnetic melodies, proficient metal, and unbridled hardcore, Volumes are hungrier than ever to connect with their fans in the flesh to experience 'Happier?' in its most authentic form.
 Volumes have put forward an LP that is a brilliant display of them at their best" Sonic Perspectives
"All in all, it's an album that gives a nod to the band's past while still bringing in new ideas. And will that make fans Happier? Almost certainly…" Kerrang
"The instrumentation is fantastic, supports the songs' themes so well, and sounds so cohesive and polished" Wall Of Sound
Accompanying them will be Thai alt-metallers Defying Decay & Aussie metalcore rising stars UNI/VS. With two virtuosic full length records under their collective belts, Defying Decay have been taking their enigmatic culmination of influences such as Deftones & Linkin Park live on the road with Motionless In White (US), Atreyu (US), Crown The Empire (US) and countless more.
Featuring homegrown riffage from Brisbane metalcore up & comers UNI/VS whose signature downtuned ferocity, showcased in two blistering EP's, has seen them perform alongside Silverstein (CA), Comeback Kid (CA), Stick To Your Guns (USA), and Being As An Ocean (USA). This tour is what every metalcore & hardcore fan has been waiting for. Grab your tickets for this high-octane sonic onslaught now!
Borderline BMT Presents
VOLUMES 'The Happier' August 2022 Australian Tour
With Special Guests DEFYING DECAY & UNI/VS
Friday August 19 – Princess Theatre, Brisbane 18+
Saturday August 20 – The Newcastle Hotel, Newcastle 18+
Sunday August 21 – Crowbar, Sydney 18+
Monday August 22 – La La Las, Wollongong 18+
Tuesday August 23 – The Basement, Canberra 18+
Wednesday August 24 – Corner Hotel, Melbourne 18+
Thursday August 25 – Lion Arts Factory, Adelaide 18+
Tickets are ON SALE now via https://bit.ly/BorderlineBMT