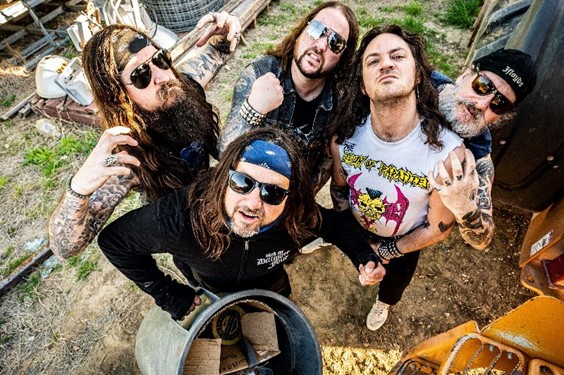 Richmond's hard-partying, thrash metal maniacs MUNICIPAL WASTE have just released their killer 7th studio album, Electrified Brain, on July 1st via Nuclear Blast.
Electrified Brain marks MUNICIPAL WASTE's first album in 5 years, following the release of their critically exalted 2017 record Slime and Punishment. And don't think they've slowed down in the years since. 
The Everblack Podcast had a chat with Municipal Waste frontman Tony Foresta about their killer new album 'Electrified Brain', the running concept with the song 'Paranormal Janitor', the insane visual effects behind their video clips, jamming At Gwar's Slave Pit, drinking in graveyards and getting bitten by bats in Australia, possible return down under and more!
Watch/listen to the interview here:
Since 2001, MUNICIPAL WASTE have uncompromisingly stuck to their guns as hard-partying and even harder-hitting torchbearers of 21st century thrash metal. The Richmond, VA quintet—Tony Foresta [vocals], Ryan Waste [guitar], Philip "Landphil" Hall [bass], Dave Witte [drums], and Nick Poulos [guitar]—have transformed from a cult favorite into metal mainstays for a generation. Along the way, Decibel touted The Art of Partying in its coveted "Hall of Fame" and asserted it "revved up interest in thrash and inspired a fresh wave of youthful new bands." Metal Hammer christened The Art of Partying one of "The 50 Greatest Thrash Metal Albums Ever," while Loudwire pegged The Art of Partying as "The Best Thrash Album of 2007" and Hazardous Mutation as "The Best Thrash Album of 2005." The guys have sold out countless shows on multiple continents and piled up tens of millions of streams in the process. 2017's Slime  and Punishment bowed in the Top 3 of the Billboard Heatseekers Albums Chart, and The Last Rager EP only accelerated their momentum in 2019.
However, MUNICIPAL WASTE maintain course as vicious and vital as ever on 2022's Electrified Brain [Nuclear Blast].
MUNICIPAL WASTE – Electrified Brain is out now via Nuclear Blast.
https://www.municipalwaste.net/electrified-brain