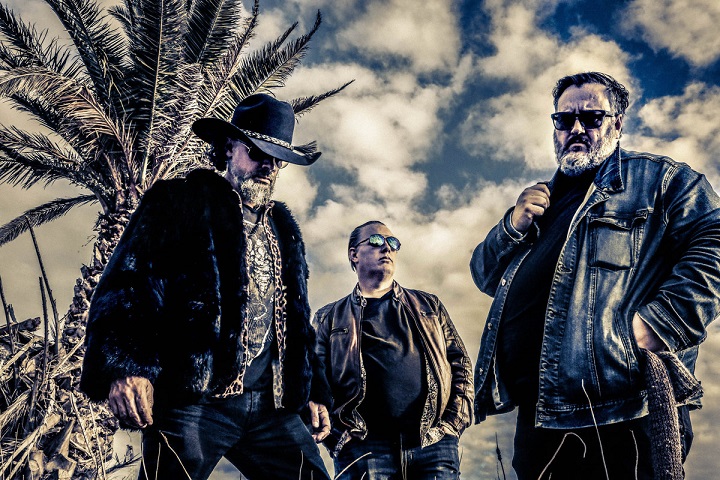 Do you LOVE Red Fang, Kyuss, Queens Of the Stone Age, PJ Harvey, Truckfighters?
Your weekend is almost here. Taking place between June 30 and July 3 across multiple venues in South East Queensland with performances in Brisbane, Ipswich, Sunshine Coast, Gold Coast, Riffmageddon II is the ultimate homegrown Stoner Rock showcase!

Featuring from Western Australia – Giant Dwarf.
From South Australia – Kitchen Witch.
From Victoria – Planet of The 8s.
From New South Wales – Human Dinosaur Machine.
And with additional ultra dope local features from SEQ's underground scene, Riffmageddon has collected some of Australia's rarest gems to share with their hometown heroes. 
The Everblack Podcast caught up with Sullo from Planet of The 8s to talk about hitting QLD for Riffmageddon II, upcoming split with Duneeater, future touring plans and more!
Watch/listen to the interview here : 
Desert Stoner Rock based in Melbourne, Australia. Planet of the 8s have evolved over seven years to become one of Australia's foremost desert stoner rock outfits, delivering a visceral live set punctuated by deep grooves, harmonised melodic vocals and a thick wall of captivating riffs and lead guitar. Their sound has continually evolved and while influences like QOTSA and Kyuss are evident in the older material, Planets' have brought progressive and doom elements into their more recent/upcoming releases, with a nod to bands like Tool, Lowrider and Elephant Tree. Performing material from their upcoming split for Ripple music, 2021's EP Lagrange Point and more.. Planets' are not to be missed.
Riffmageddon is an annual event relating to the adventures of Death By Carrot, bringing home our national undergrounds greater celebration of Riffs among all things weird & wonderful. As Gina rolls around we enjoy collaborations with artists around Australia and present to you this showcase from our Infinity Loop.
Death By Carrot is a project with over 400 performances celebrating alternative culture, encouraging a healthy space for human-to-human communication through community gatherings and artistic collaborations. . Our method is Riffs.
Our mechanism is The Infinity Loop, a national run of performances… We are talking 60+ towns and cities in 14 weeks and 15,000+ km of road at a time; the Infinity Loop snake's its way throughout Australia's metropolitan and regional spaces. From the canopies of The Kimberley to the banks of the Murray River, vast plains of the Nullarbor to the ancient oceanic openness of Centralian Northern Territory; The Infinity Loop embodies the stories of the Australian land and the folks that dwell in them.
Our trusty Ford Transit, Gina, rolls us up to pubs, clubs, skate parks, breweries, opal mines, rainforests, art battles, open mics, beaches, cattle stations… We raise Black Marsha in the name of collaboration, with acts, artists and venues around Australia coming together to participate in facilitating the myriad of events that happen along the ever-evolving Infinity Loop.
In 2020 we attempted our first ~complete~ Infinity Loop! Due to the Covid's situation we had to turn around and Hightail it home upon reaching Margaret River
https://bit.ly/HightailinItHome
After a brief grounding, Gina rolled out of Brisbane again to attempt the complete Infinity Loop for the second time. Again, due to complications of the unfolding Cvids situation, we barely made it into WA before the borders closed. Zig zagging around as far north as Broome and as far round the boot as Kalgoorlie/ Esperance, we continued to raise the Riffs!
Now returning East after 13 months away from home to gather in the name of slow, low and heavy for our yearly Riff showcase RIFFMAGEDDON; an all inclusive gathering of Riff lovers, desert dreamers, groovers and movers.. remember that cave rave scene in Matrix? 4 days of stoner grooves & desert rock with a colossal interstate lineup…
RIFFMAGEDDON Vol II 
Thursday, June 30: The Zoo, Brisbane
Friday, July 1: Banshees Bar & Artspace, Ipswich
Saturday, July 2: Norton Music Factory, Sunshine Coast
Sunday, July 3: Mo's Desert Clubhouse, Gold Coast
Tickets are onsale now!
https://linktr.ee/RIFFMAGEDDON2022