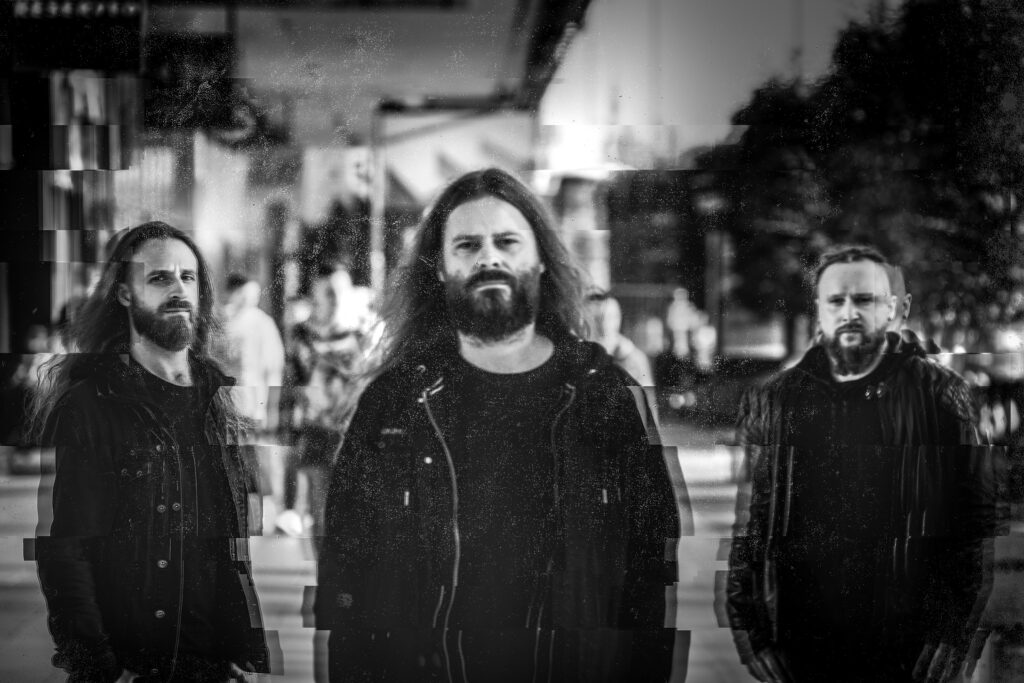 Poland's legendary death metallers DECAPITATED release their stunning new album Cancer Culture on 27th May via Nuclear Blast.
Across eight studio albums, DECAPITATED grew from the adolescent dream of teenagers from a small Central European town to one of the leaders of the metal genre. Each successive album has further expanded the band's sound with genre-bending authenticity and integrity.
DECAPITATED's music is a weapon forged by four young men from a historic medieval-fortified town in Poland, which catapulted them to the top of a worldwide subculture. Like a rose in the devil's garden, the DECAPITATED story builds triumph from tragedy. The gleeful grotesquery of extreme metal imagery and rifftastic bludgeoning beckons listeners to uncover broader truths.
The Everblack Podcast caught up with DECAPITATED guitarist Waclaw 'Vogg' Kieltyka to talk about their crushing new album 'Cancer Culture', having Jinjer vocalist Tatiana Shmayluk and Robb Flynn guest on the record, joining Machine Head after being a fan since Burn My Eyes, upcoming tour and possible return to Australia and more!
Watch / listen to the interview here :
DECAPITATED always sought the best production possible, with the highest sonic richness, and this time was no different. In the past, the band hired top-tier producers like Daniel Bergstrand (Meshuggah, In Flames) and the Hertz Brothers (Behemoth, Vader), and the best engineers in Poland, including Tomasz Zed Zalewski, who won a Polish Grammy and is many times nominated.
Cancer Culture sounds brilliant, modern, and tasty. "There is no place for any fake, plastic, bullshit drum machine or anything like that," Vogg insists. "It's all organic, pure, and clear, showing the true face of the band. Vogg and company entrusted the Cancer Culture mix to David Castillo at Sweden's Fascination Street Studios / Studio Gröndahl (Sepultura, Carcass, Opeth, Katatonia), and legendary American producer Ted Jensen (Metallica, Slipknot, Pantera, Machine Head, Korn).
The devoted supporters who traveled to see DECAPITATED on international tours with the likes of Lamb Of God, Meshuggah, Soulfly, Fear Factory, and Suffocation over the years will recognize the ever-present pummeling backbone. Longtime fans and newcomers alike will connect to the variety of atmospheric depth throughout Cancer Culture's ten boundlessly energetic and creative tracks.
Cancer Culture is no less rich thematically. As he did with 2011's Carnival Is Forever, Journalist Jarek Szubrycht composed the lyrics and album title for Cancer Culture. "He did lyrics for us for the second time, and those lyrics are amazing," Vogg says. "He's not a typical writer. It's all about what we are doing as people, the current times, how we never seem to learn from our mistakes."
Szubrycht explains: "These are songs about the disproportion between the dreams, ambitions, and aspirations of humanity – and people as individuals – and the actual human capabilities. About the fact that every power and every triumph are innately bound to fail. And also, how religion is a sophisticated lie that we want to believe so much because we are afraid of nothingness.
"We are so stupid and short-sighted that we destroy everything we touch, including the Earth that gave birth to us and nourishes us," he continues. He adds that the lyrics "tackle the issues regarding the internet, a great invention (and more broadly – technology), as the space where we mainly pour out frustration, spread superstition and lies, fuel hatred, and feed our low self-esteem. All the social media power trips and anger sprees are not worth shit because we are only a temporary aberration, a micro-error on the cosmic scale. There will be no trace left after in a moment's time. They are lyrics painted with disappointment, pessimism, and a lack of illusion." 
 Szubrycht is the vocalist for long-running avant-garde metal band Lux Occulta, whose lineup includes Vogg on guitar. The band isn't Vogg's only project outside of DECAPITATED. As part of his improbable and inspirational story of perseverance and undeniable creative strength, Vogg joined Vader for a brief stint in 2008. In September 2019, he became the lead guitarist in Machine Head.
Driven by Vogg's passion and integrity, the dual emphasis on creative invention and technical prowess maintains DECAPITATED's stature as genre-leaders in 2022 and beyond. The band's supporters continually demonstrate confidence and absolute certainty DECAPITATED will deliver.
"DECAPITATED was always about the music first," Vogg says. "We never had an image. Our strength, our force, is to deliver great performances. Ever since we began touring, we've met fans who are musicians themselves or aspire to be. DECAPITATED is one of the bands from the modern death metal school, inspiring younger musicians. We also have older fans from the first four albums and another group from the more recent ones. I believe Cancer Culture will be the album to connect all of those groups. It is quintessential DECAPITATED."
DECAPITATED – 'Cancer Culture' is out on May 27 via Nuclear Blast Records.
Order here :
Digital Sales link:  https://bfan.link/DecapitatedAlbum
Physical sales link: https://bit.ly/3GaCrhJ