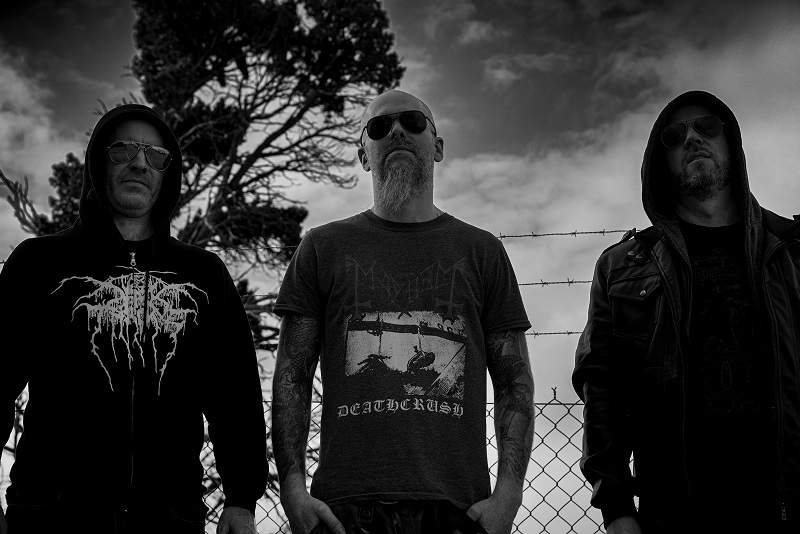 FROM THE CAVE TO THE GRAVE' album released via Prosthetic Records: June 24th, 2022
Start digging your bomb shelters: Australian death metal trio Werewolves have announced their return with a third full-length album, 'From The Cave To The Grave'. Alongside the album announcement the band have shared a new track for the wrathful single, 'Crushing Heaven's Mandate'
Bassist/vocalist Sam Bean (The Antichrist Imperium, The Berzerker) comments: "This shit again. Seriously. I should be pouring concrete into a lower chamber underneath my shed and stockpiling waterproof boxes of grains, but here I am promoting one of our fucking brutal albums. The day one of us has a heart attack or gets hit by a truck, everything will go back to normal, I guarantee. But in the meantime, buy our shit. We are better than you."
Drummer Dave Haley (Psycroptic, Abramelin, Ruins, King, Blood Duster) and guitarist Matt Wilcock (The Antichrist Imperium, The Berzerker, Abramelin) add: "This album sounds like the last album, but better."
, 'From The Cave To The Grave' keeps up the searing pace of the first two Werewolves albums, with a mix of black and death metal and unprecedented aggression that is coalescing into a style of its own. Opener Self-Help Book Burning kicks the door in Hate Eternal-style before deforming into a blackened ending. It's followed by stadium crowd-pleaser We Are Better Than You, blaster All the Better to Eat You With, and social credit score-destroyer Crushing Heaven's Mandate. Harvest of the Skulls is an ode to the horror of genocide and the rest of the album blasts through to closing threat Watch Your Mouth, leaving you to enjoy your ringing ears and mild trauma.
The mixing is by Joe Haley (Psycroptic) and the artwork is by Mitchell Nolte. Slayer never changed their shit up, neither will WEREWOLVES. "Change" can be mistaken for "progression", which WEREWOLVES shrinks in horror from.
WEREWOLVES perform their first ever show and album launch Saturday June 5th at Crowbar in Sydney, supporting Psycroptic and Denouncement Pyre!

Stream: https://werewolvesdeathmetal.bandcamp.com
CD Pre-order: https://lnk.to/werewolvesdeathmetal