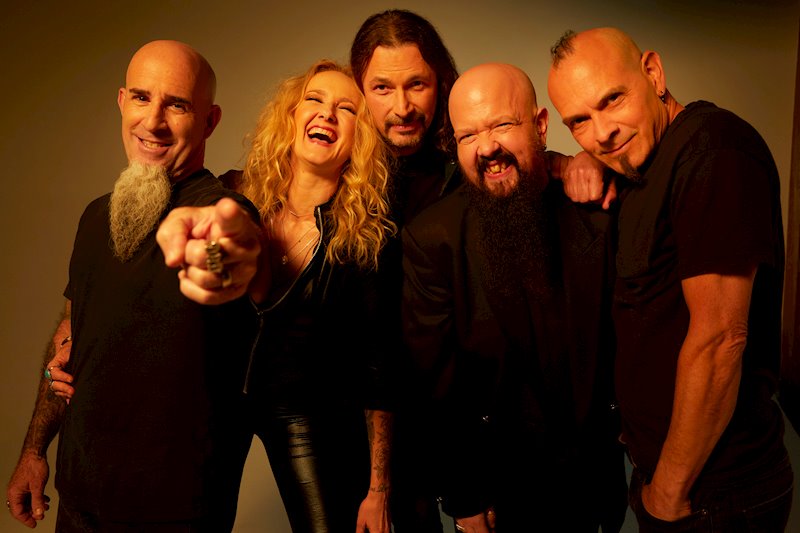 Photo Credit – Travis Shinn
Hard rocking supergroup Motor Sister have just released their new album 'Get Off' via Metal Blade Records.
The band Comprised of vocalist/guitarist Jim Wilson (Mother Superior), guitarist Scott Ian (Anthrax), bassist Joey Vera (Armored Saint), drummer John Tempesta (White Zombie, The Cult) and vocalist Pearl Aday (Pearl), Motor Sister was originally formed as a Mother Superior covers band made up of diehard fans – and aided by sharing the same frontman – playing the songs for the love of doing so, making their debut at Ian's private 50th birthday party. Catching the attention of Metal Blade, the label offered to put out a record and the result was Ride (2015), a collection of live-in-the-studio takes cherry-picked from Mother Superior's back catalogue. Now, they step beyond those parameters, returning with their second album, which is almost entirely brand new material.
The Everblack Podcast spoke to Motor Sister vocalist Pearl Aday about their new album 'Get Off', recording at the Foo Fighters Studio 606 with Jay Ruston, her son Revel and husband Scott Ian's jam videos, touring the world with Motley Crüe, playing the upcoming Welcome to Rockville and more!
Watch / listen to the interview here :
Having been playing occasional shows when schedules permitted, though seven years have elapsed between records the group has never been broken up, as such, and according to Ian the band is meant to be. "The magic was there even before 2015. That's how Pearl and I knew this was supposed to be a band. We were supposed to play music together – that was easy to make happen with Jim's songs then, and it was there working on new stuff. That's what happens when decades-long friends play together." The result is aptly described by Vera as "no bullshit hard rock and roll", the record containing eleven originals and rounded out with a cover of Mother Superior's "Rolling Boy Blues", which has been a live staple. Kicking off with the compulsive, high octane "Can't Get High Enough" they immediately put the pedal to the metal, likewise on the pure rock n' soul of "Bulletproof" and the swaggering "Excuse Me, Your Life Is Exposed". They slow things down a little on the singalong glory of "Sooner Or Later" and the more plaintive "Pain." 
When asked about the album's title Aday states "I read somewhere that the definition of a "get-off", according to MC biker culture, apparently means to jump off your bike before an imminent crash to save yourself from an inevitable fiery wreck. If you follow Jim's lyrical journey through this album it just makes sense," while Wilson exclaims "who doesn't want to get off?!" When it came to lyrics, as principal songwriter he stayed within his comfort zone for the best results. "I think I personally always come from the tradition of the blues and classic country music and stick to things people can relate to. The ups and downs of love and relationships and situations in life itself. They can sometimes have a bit of personal experience in them but as a writer you're free to embellish the story. I just like to have the lyrics be as interesting as the melody." Exploring a variety of themes, "Bruise It Or Lose It" is co-written with Aday, and is about surviving the music business, while "Sooner Or Later" is a self-explanatory exercise in patience, and "Time's Up" was written as a tribute to Kiss, a band beloved by every member of Motor Sister
As with Ride, the band entrusted Jay Ruston (Anthrax, Steel Panther) with production, and this time headed into LA's Studio 606. "It's a great sounding room and we got to track on the Sound City Neve, which is perfect for our sound," says Ian. "And some really cool people – who took great care of us – own it." Also in common with its predecessor, Get Off was recorded live in the studio, with all five members in the same room, vocals and leads redone after the basic tracks were laid down, but tracking was interrupted mid-process by Covid-19. "We were literally listening back to basic tracks when John Tempesta gets a text saying that the city of Los Angeles was shutting down," says Vera. "We were like 'What!?' Luckily, we had finished up all drums and bass and most guitars so we just packed up right then and ran to the grocery store at midnight to load up on food supplies." This put things on hold, resuming a year later as the band added the finishing touches to the record, but this interruption definitely did not harm the feelings of exuberance and spontaneity that bleed from the speakers. Now, the band are looking forward and excited to play these originals live alongside the covers they are known for, and with shows getting booked for 2022 it's time for fans to lose their shit and get off to one of the greatest rock and roll bands operating today.
Motor Sister – 'Get Off' is out now via Metal Blade Records.
Orders for Get Off are available now www.metalblade.com/motorsister