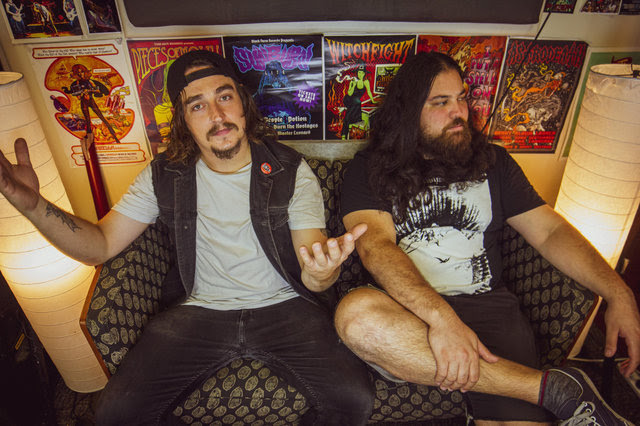 Sydney Sludge/Hard Rock duo Astrodeath today release new track and clip for Ceremonial Blood as premiered by Triple J's The Racket, AndrewHaug.com and HEAVY Magazine.
Experimenting with dark melody in this offering whilst still staying true to their big riff style and aggressive delivery, the band have dropped their third album single off upcoming release Vol.2 (Tuff Cuff Records/Black Farm Records) to coincide with a 10 date East Coast tour and comic book release.
In what has been a solid linear curve of growth for the band over the last 2 years, Astrodeath have cemented their position in the national Sludge/Doom/Stoner/Hard Rock scene with a steady flow of high quality material, festival appearances (Mojo Burning, Thrashville, Aftermath and Dog Daze) and support slots including 1000mods (GRE), Nick Oliveri (QOTSA), Svetlanas (ITA) and more with no sings of abatement this year.
Astrodeath frontman Tim Lancken (Yoshi Hausler on drums) says of the new single/clip and current tour "
"With a fist full of new songs and the pent up energy of two years of minimal Headbangs, we're champing at the bit to get out and throw down, rallying some of our favourite bands to support us and they've all got some fury to unleash.  We think Ceremonial Blood is the best song we've made to date and hereby formally invite all who headbang to come lay waste to venues across the country with us.. we'll see you in the pit!"
Astrodeath have begun the Ceremonial Blood tour on the back of sold out shows in Melbourne alongside the likes of Dr Colossus, with a big home show at The Vanguard dropping this Saturday, featuring scene veterans Yanomamo, Hypergiant and Amammoth.
Beats Cartel and Young Henrys Present
ASTRODEATH 'CEREMONIAL BLOOD' 2022 Tour
Sat Apr 02 Sydney THE VANGUARD w Yanomamo, Hypergiant and Amammoth
Fri Apr 08 Brisbane KING LEARS THRONE w A Gazillion Angry Mexicans and Gutterfire
Sat Apr 09 Gold Coast MO'S DESERT CLUBHOUSE *Dog Daze Festival
w Dumb Punts, Drunk Mums, Crocodylus and more
Sat Apr 16 Hobart ALTAR *Purgatory Minifestival
w Mountain Wizard Death Cult, Coward Punch, Gape, Hudson Cartel and more
Fri Apr 22 Katoomba BAROQUE ROOM w Flaming Wrekage, MWDC and more
Sat Apr 23 Newcastle STAG & HUNTER HOTEL with Drug Mother and Boudicca
Sat Apr 30 Canberra THE BASEMENT *Sunburn
Sat May 07 Melbourne CHERRY BAR w El Colosso and Planet of the 8s
Full tour info and tickets at beatscartel.com/showtickets
'Ceremonial Blood' single released across all streaming platforms TODAY / Wed March 30