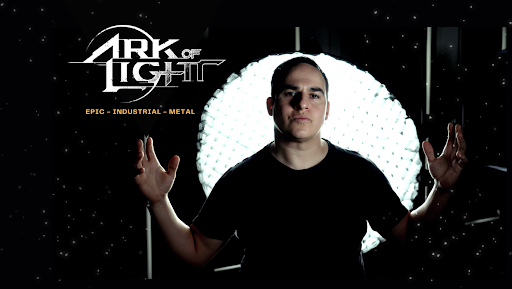 A NEW DAY HAS COME to redefine the purpose of music and the effect it has on the people of our world.
Does music have the power to change the world for good? 
There are many artists producing powerful heavy metal, however, a light must be shone upon Australian-based fantasy author and musician, Dominician Gennari. This Industrial-Metal Sovereign created a music project called, Ark of Light. 
"Danger Rising is the process of going from Darkness to Light. It's a story of realising the dangers in our world and our governments, and understanding we have the power to rise and claim the day for the future of humanity. Danger Rising is not merely a soundtrack, it is an effort to resurrect truth!"

Having worked with Mastering Engineer, Tom Baker (Nine Inch Nails, Rob Zombie), and the Royal Melbourne Philharmonic Choir, Ark of Light front man Dominician Gennari has carved his own genre of Epic – Industrial – Metal. Fusing synthesizers, guitars, and samples with the triumph of a 100 voice choir, Ark of Light crosses over into the European-Metal sound, yet still harnessing that energy we find in the American Industrial-Rock movement. The band's unique hook is found in the enlightened, powerful lyrics.

which is a reprieve from the typical darkness of themes we find in metal music today. Ark of Light will release multiple singles to complete its debut album: Divine Hologram.
He Adds, "Outside of entertainment, what purpose does music really have in our current society?"
If slamming electro-metal with a wholesome message tick your box, and if epic choirs and anthemic choruses ignite the flames inside of you . . . Ark of Light may just be your next favourite band, worthy of your time! Fans of Nine Inch Nails, Amaranthe, and Static X will enjoy the Industrialised fusion of Ark of Light. Register for the upcoming book & album releases in the links below:
THE FIRST SINGLE RELEASE: Danger Rising from the Ark of Light album: Divine Hologram will drop on all good music outlets on the 16th of March 2022.