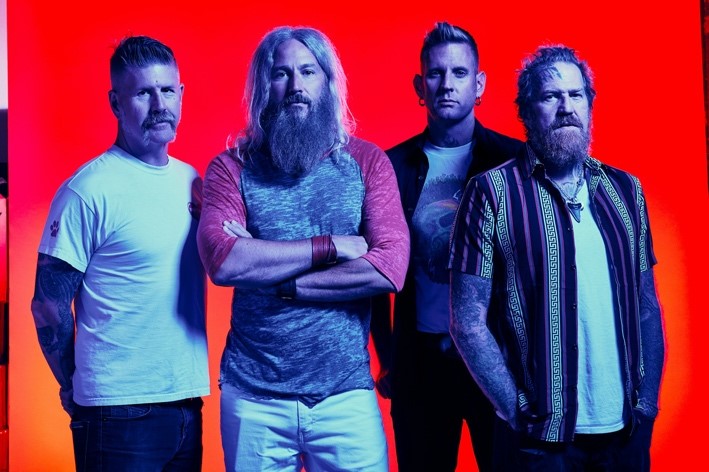 GRAMMY® Award-winning Atlanta heavy rock quartet Mastodon present a brand new single and music video entitled "Teardrinker." Click here to stream and here to view/share the new video. It stands out as the first official single from their anxiously awaited ninth full-length album, HUSHED AND GRIM, arriving on October 29, 2021 via Reprise Records. It is available for pre-order at all digital retailers and in vinyl and physical configurations here.
Invoking their evolution again, the elegiac track's melodic riff cuts through a steady groove before a haunting hook takes hold, "I can see your face, and I feel the pain, and I feel the shame that I have let you down again."  The vocal call-and-response spirals into warbling guitar leads, and one last cathartic blast of distortion and drums. In the accompanying clip directed by Lorenzo Diego Carrera, the band enters an empty warehouse before being immersed into four uniquely curated mini universes, each of them feeding tears to a greater deity filling it with more life and power.
It arrives on the heels of the previously released track "Pushing The Tides." The latter has already amassed 2 million-plus total streams and counting in addition to 808K YouTube views on the music video. Inciting critical applause, NPR noted, "Riffs escalate and clang with a swaggering bombast, but are grounded by the soaring vocal hook from drummer Brann Dailor," before adding "count me in for the upcoming double-album Hushed and Grim." Brooklyn Vegan hailed it as "a fired-up rager" and "a promising first taste." Music Radar wrote, "'Pushing The Tides' has an intensity that recalls earlier Mastodon but with a typically widescreen approach to melodies and textures," and Consequence of Sound highlighted its "dark riffs, mountainous rhythms and an eerie melody."
Their first full-length studio work in four years, HUSHED AND GRIM was recorded in their hometown of Atlanta, over the course of the past 12 months with producer David Bottrill (Tool, Rush, Muse, Peter Gabriel). Their most ambitious body of work to date, each of 15 tracks, survey the sonic landscapes of the band's vast confluence of influences and inspirations. An atmosphere of very real loss, loneliness, and longing permeates through the trio of cathartic vocals as they musically say goodbye to old friend, confidant, and longtime manager the late Nick John by architecting an affecting, intense body of work that bears the influence of his eternal memory. HUSHED AND GRIM represents the next step on Mastodon's endless path of natural evolution. By removing boundaries and creating in a free form they evolved with a combination of newfound melodic confidence and their signature musical intricacy intact. In the end, HUSHED AND GRIM is hard-hitting, hypnotic, and heart-wrenching. More than ever before, Mastodon continue to be one of the most influential forces in modern rock music.