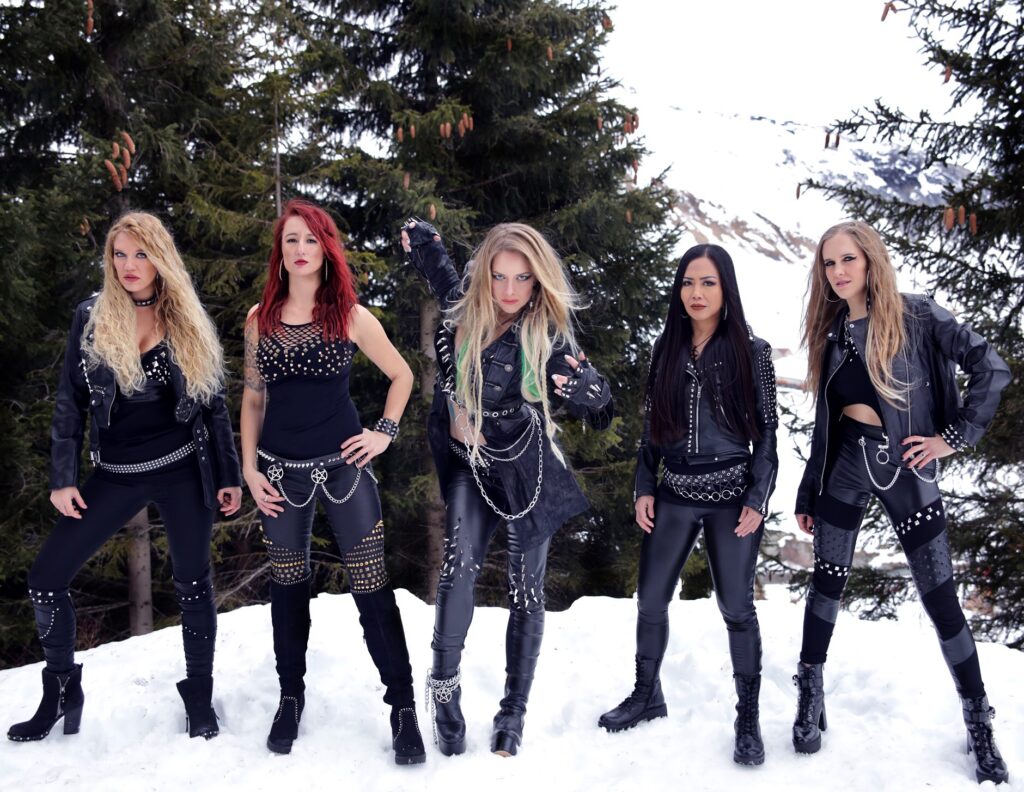 BURNING WITCHES have just unleashed their new album 'The Witch Of The North', an all killer no filler, high octane homage to the genre's traditional metal roots of the 80's blended with a killer modern production and played with focus, intensity and determination.
Despite the challenges of the 2020 and a line up change that saw Sonia "Anubis" Nusselder leave the coven and the band recruit long time friend Larissa, Burning Witches prove once again that they are an unstoppable force of nature who's passion, friendship and will have given them the strength to blast through anything in their way and produce a record worthy to stand the test of time.
We caught up with both Lala and Laura from Burning Witches to talk about the new album 'The Witch Of The North', It's incredible cover art, line up change and new witch Larissa, how their mentor Schmier from Destruction supported them on their new journey, upcoming tour and more!
Watch / Listen to the interview here:
Few bands in recent memory have established themselves as quickly as BURNING WITCHES, and few are able to write such timeless, grand tunes with somnambulistic ease; carrying Judas Priest in their hearts without becoming overly nostalgic, whilst rapidly developing their own unique voice. "We're not really into bigger experiments," confesses guitarist and main songwriter Romana. "We're all burning for classic metal like Maiden, Priest and Slayer. For me nothing's better than this kind of music, so Burning Witches will always stay true to themselves."

Now, the Witches opened a particularly gripping page in their grimoire: an album forged in the fires of a pandemic, created with patience, finesse and pitch-black lifeblood during a time in which even the Swiss/Dutch coven had to retreat into the isolation and quietness of the dark woods. Right there they hatched new spells and new ways of weaving their potent magic into the world. For Freya, for the druidesses, for the witches as past, present and future.

Several recording sessions with Swiss metal legend V.O. Pulver and their producer, thrash titan Schmier (Destruction), at the end of 2020, enabled this foremost incarnation of the band to take their explosive heavy metal to new heights. With "Circle Of Five," "We Stand As One" or the title track there's an ample amount of rousing, blistering hymns; but for BURNING WITCHES – and you can call that old fashioned if you like – it's the album that counts, from its intro up to the concluding cover song.

Speaking of cover songs: after "Holy Diver" and "Battle Hymn" this time sees "Hall Of The Mountain King" by the mighty Savatage – including guest solos by Chris Caffery – what a choice, what a rendition!
"The Witch Of The North" sounds unleashed and completely rounded. We're looking at five pure musicians that have sought and finally found each other.
This coven can't be stopped by prejudice, nor by stakes, nor diatribes. The era of the Witches has begun. And anyone who won't join this black magic circle will bitterly regret it for
BURNING WITCHES – 'The Witch Of The North' is out now via Nuclear Blast.
Order here :
Buy / Listen to the album The Witch Of The North here:
http://nblast.de/BW-WitchOfTheNorth
Local Australian Physical Copies are in stores and you can OrderHERE