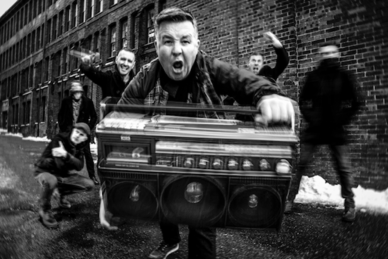 Celtic punk legends Dropkick Murphys are back to make you raise your voices and your beers with their new album 'Turn Up That Dial' out April 30 through Born & Bred Records.
The Boston born rockers have been trekking the globe for 25 years bringing their blend of heavy-hitting folk-punk to the masses with repeatable lyrics telling tales of the highest highs and the lowest lows of life and sometimes even the downright hilarious stories you would only hear over a few cold ones.
Dropkick Murphys are one of a kind and prove that even after a terrible year of sadness and loss around the globe they can still produce an album that can put a smile on anyone's face and celebrate the good times ahead.
We sat down with Dropkick Murphys Ken Casey to talk about their new album 'Turn Up That Dial' and its positive message, the true story behind the song 'Mick Jones Nicked My Pudding', His love for everywhere in Australia except for Newscastle, how Aussie road crews are the best in the world and the massive impact of I'm Shipping Up to Boston.
Watch/listen to the interview HERE :
Dropkick Murphys – 'Turn Up That Dial' is out April 30 via Born & Bred Records.
Pre-order here: https://wma.lnk.to/DM-TUTD