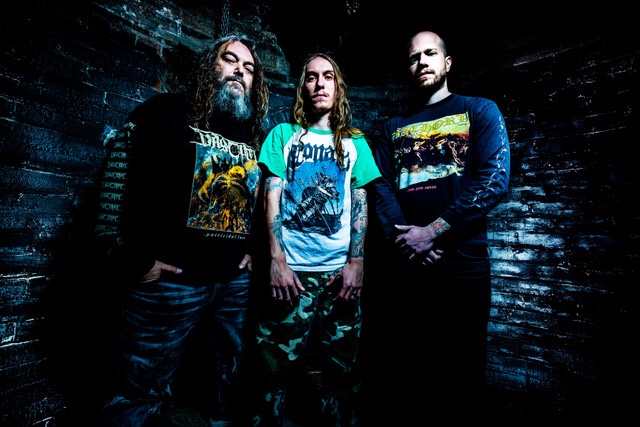 Arizona's GO AHEAD AND DIE is proud to announce their self-titled debut album will be released on June 11th via Nuclear Blast Records. GO AHEAD AND DIE is a raw, urgent, unrelenting, thrillingly shocking, and vibrant new band. Today the band release the music video directed byJim Louvau and Tony Aguilera for the first single, 'Truckload Full Of Bodies'.
Watch the video here:
Max Cavalera comments, "'Truckload Full of Bodies' is a dark x-ray of the COVID-19 pandemic. It examines the way certain politicians in 2020 didn't care about their citizens. Hypocrites took care of themselves and did not care about the rest of us dying."

Igor Amadeus states, "Like a riot breaking through your windows, G.A.A.D. arrives with a revolting mix of punk and metal, the perfect soundtrack to these dismal times."

Zach Coleman comments, "'Truckload Full of Bodies' is a battering ram and fist in the face of those in power who had no problem watching so many people die. I think it perfectly sets the tone for the album."
Born from the mind of creative writer and musician Igor Amadeus Cavalera of HEALING MAGIC and extreme metal icon, and SOULFLY leader Max Cavalera. GO AHEAD AND DIE's tempos are wild, with a contempt for modern social ills palpable, its riffs monstrous and captivating. They make angry, spiteful, utterly engaging, spirited extreme music for increasingly extreme times.
The self-titled debut sees Max and Igor splitting guitar and vocal duties, with utter madman style drumming from Zach Coleman of the blisteringBLACK CURSE and critically-acclaimed KHEMMIS. It sounds like a relic from the glory days of thrash, proto-death metal, and filthy rotten punk, the kind of band that would inspire a teenaged thrasher in 1987 to carve the G.A.A.D. logo into a school desk.
Pre-order your copy of GO AHEAD AND DIE's self-titled album, here: www.nuclearblast.com/goaheadanddie + Physical copies available locally.
Pre-save the album here: https://bfan.link/go-ahead-and-die

Vocals weren't tracked over and over in the pursuit of some kind of "perfect" takes. Coleman didn't play to a click-track. The heart and soul of GO AHEAD AND DIE is all about just going for it, the traditional way. Engineer Charles Elliot captured the sessions with the help of Platinum Underground Studio owner John Aquilino. The album was mixed byArthur Rizk, whose credits includePOWER TRIP, CRO-MAGS, andCAVALERA CONSPIRACY. The artwork for the album was created byStewart Easton while the Circle logo was created by Jeff Walker (CARCASS).
Below is the GO AHEAD AND DIEtrack listing:
1. Truckload Full Of Bodies
2. Toxic Freedom
3. I.C.E. Cage
4. Isolated/Desolated
5. Prophet's Prey
6. Punisher
7. El Cuco
8. G.A.A.D.
9. Worth Less Than Piss
10. (In The) Slaughterline
11. Roadkill

GO AHEAD AND DIE is:
Max Cavalera | Guitar and Vocals
Igor Amadeus Cavalera | Bass, Guitar and Vocals
Zach Coleman | Drums
More Info:
www.facebook.com/GoAheadAndDieBand
www.twitter.com/GAADband
www.instagram.com/GoAheadAndDieBand/